Turkish intelligence 'captures bombing suspect in Syria'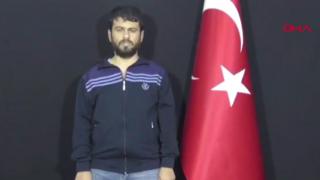 A Turkish intelligence agency has captured in Syria the chief suspect in the 2013 twin bomb attack in the border town of Reyhanli, Turkish media report.
State-run Anadolu news agency said the National Intelligence Organisation had apprehended Yusuf Nazik, a Turkish citizen, in the port city of Latakia.
He had confessed to "acting on orders from Syrian intelligence", it added.
The Syrian government has denied that it played any role in the Reyhanli attack, which left 53 people dead.
The Turkish and Syrian governments are fighting on opposing sides in Syria's civil war, with Ankara backing rebel forces trying to oust President Bashar al-Assad.
Anadolu said National Intelligence Organisation agents had brought Mr Nazik to Turkey after capturing him in Latakia - a stronghold of the Syrian government - in a "carefully planned and executed operation" that involved "no intelligence or logistical support from a foreign state".
During questioning, the 34-year-old from the city of Antakya had confessed that in 2013, after receiving a "tip-off from Syrian intelligence units, he scouted the crime scene prior to the attack and moved explosives from Syria to Turkey", the agency added.
He then procured two vehicles to move the explosives, according to Anadolu.
A video published by Anadolu showed Mr Nazik standing next to a Turkish flag and saying: "I was not able to escape from the Turkish state."
He also warned Syria's government that Turkey would "make you pay eventually".
There was no immediate response from Syrian officials.
Anadolu said that in February nine people were sentenced to life in prison after being convicted of involvement in the Reyhanli attack, and that 13 others were jailed for between 10 and 15 years.