MH17 crash: Dutch ask Russia to submit new claims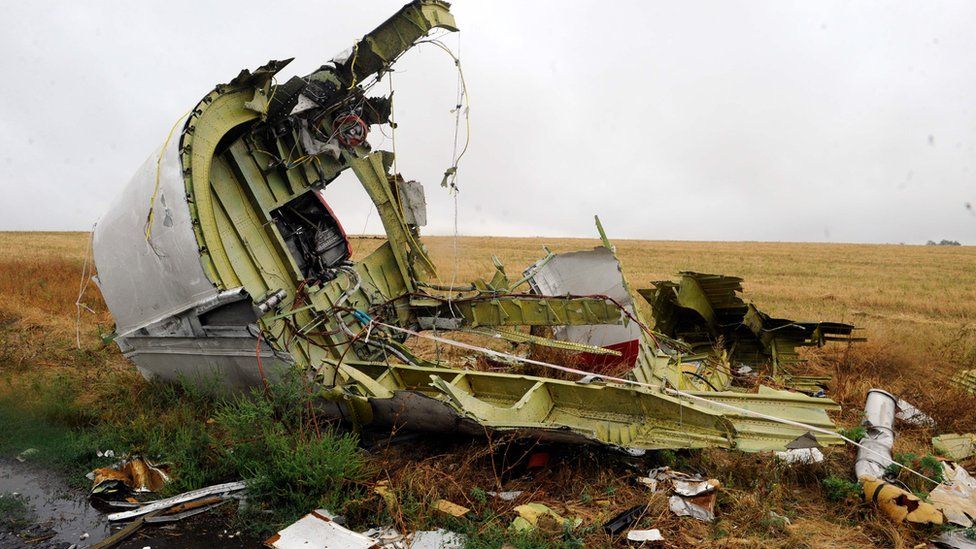 Dutch prosecutors investigating the downing of flight MH17 have said they will study any information that Russia provides, after its officials said they had proof the missile that hit the plane was in Ukrainian hands.
The Malaysian aircraft went down with the loss of 298 lives in July 2014.
Russian officials have repeatedly pointed the finger of blame at Ukraine.
They accused an international team of investigators of using fake videos to show the missile had come from Russia.
What do investigators say happened?
In May, the international joint investigation team (JIT) concluded that the Malaysia Airlines plane was shot down over eastern Ukraine by a Russian-made Buk missile, supplied by the country's 53rd anti-aircraft brigade in Kursk.
The team provided images, video, and an animation of a convoy of Buk-Telar rockets heading from Russia in late June 2014, with the Buk in question being transported by a Volvo truck with a white cabin.
In an apparent attempt to hit back at the JIT's conclusions, Russian defence officials alleged on Monday that some of the videos showing the Buk missile system were fabricated, with the tow truck carrying the missile added later.
They also provided an audio recording, alleging that it showed Ukrainian servicemen in 2016 saying they would bring down "another Malaysian Boeing".
Russia has given differing accounts over time of how MH17 was shot down in eastern Ukraine, as conflict raged between Russian-backed separatists and Ukrainian forces.
At one point, Russian officials said the Boeing 777 was downed by a Ukrainian air-to-air missile fired by a Ukrainian fighter. Russian TV even produced a much-ridiculed satellite photograph purporting to show the moment of attack.
What reaction has there been?
The joint investigation team in the Netherlands responded to Russia by saying it would "meticulously study" its information as soon as the documents were made available.
In a statement, the JIT said it had always carefully analysed information provided by Russia, and found that information "previously presented to the public and provided to the JIT was factually inaccurate on several points".
Russia had left unanswered a request to provide all relevant information in 2014, as well as a specific request last May for details about recovered missile parts, the team said. Investigators highlighted a UN Security Council resolution in 2016 which obliged all states to co-operate fully with the international investigation.
Ukraine's Defence Minister Stepan Poltorak dismissed Russia's claim as a lie and "another fake story".
Eliot Higgins, who set up the Bellingcat online investigation website after the downing of MH17, said Russian defence officials had misinterpreted shadows and objects in their attempt to show there was a problem with lighting in the videos produced by international investigators.
In the HD version of the video the Russian MoD presented you can see this effect clearly as it passes the camera. Clearly Russia's "experts" don't have a clue what they're talking to, and don't have access to the same original source material we have. 5/5 pic.twitter.com/UZYGIkg6Tb

— Eliot Higgins (@EliotHiggins) September 17, 2018