Salzburg summit: Austria leads EU's anti-migrant drive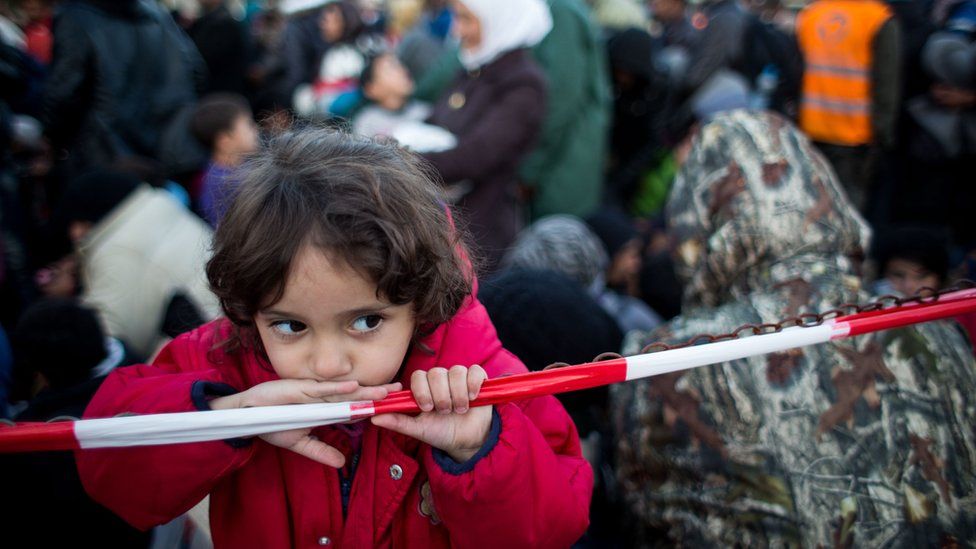 In the small Austrian border town of Spielfeld there are still vivid reminders of the 2015 European migrant crisis, when tens of thousands of people crossed on foot from Slovenia.
Metal barriers and huge tents were erected at the border, where refugees and migrants were sheltered and fed while their asylum claims were processed.
The Austrian government that has come to power in the wake of the crisis has made migration a priority of its European Union presidency.
This week, along with Brexit, migration is set to dominate the informal summit of European Union leaders that starts in Salzburg on Wednesday evening.
As political tensions on migrants run high in the EU, Austria has emerged as one of the hard-line voices.
The tents of Spielfeld lie empty today, and deserted containers are still equipped with computers and finger-printing machines.
They were last used on 6 March 2016, just after the Balkan route for refugees was closed, says Leo Josefus of Austrian police.
The border management camp is still here "just in case", he says.
"We need about 24 hours to get it working if the refugees come, but nobody knows."
Some 90,000 people applied for asylum in Austria in 2015, about 1% of the country's population.
But while the number of asylum seekers has now dropped dramatically, migration remains key for an Austrian coalition made up of conservatives and the far right.
Taking a tough line on migration has helped conservative Chancellor Sebastian Kurz as much as his Freedom Party partners at the ballot box.
Mr Kurz has been at the forefront of calls to shift the focus, from relocating asylum seekers inside the EU to defending Europe's outer borders.
Peter Launsky-Tieffenthal, spokesman for the Austrian presidency, says they hope to see progress in Salzburg on the issue of strengthening Frontex, the European coast and border guard.
"Frontex's mandate should be strengthened, its ability to act on the ground and in the waters of the Mediterranean," he said. "Its resources should be strengthened and its personnel should be increased."
But while there may be movement on Frontex, other splits on migration are all too evident in the EU.
Last week at a conference in Vienna, Italy's far-right Interior Minister Matteo Salvini likened African immigrants to slaves - leading to a spat with Luxembourg's Foreign Minister, Jean Asselborn.
An hour's drive north of the border, in a sunny square in Graz, I met a man named Friedrich, who told me migration and integration would never work.
"It's good we have this new government. The left-wing government we had before was a catastrophe," he said.
"We are taking far too many people in, and they don't want to integrate. They want to live at the cost of the taxpayer."
But critics of the government accuse it of deliberately stoking populist fears about migrants and refugees.
Opposition politician Peter Pilz says border controls such as those at Spielfeld "are not about security, but about propaganda."
Since it came to power last year, the government has moved to cut benefit payments to refugees and foreigners as well as to some of the institutions that support them.
In Graz, I visited Somm, an organisation that works to help women refugees and asylum seekers get to know and integrate into Austrian society. Among its activities, it offers German classes and provides translation help at the doctor's or in hospitals.
But its head, Khatera Sadr told me they have had to reduce their programmes because of a lack of funding.
"With the new government, we feel the cuts because fewer German classes are being offered for migrants who don't have asylum status," she said. "We think this is a great shame because the first step towards integration is learning the language."
One of her students, Saleha Yaghubi from Afghanistan, came to Austria in 2016 with her son. They applied for asylum and are waiting to hear if they will be granted the right to stay.
"When I hear about the new government, I can't sleep at night," she told me. "I wake up and pray that all these problems will go away."