Walmart to stop selling clothing with Soviet symbols, Lithuania says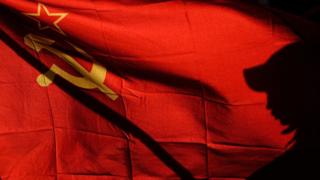 Walmart will no longer sell clothing with Soviet hammer and sickle symbols, Lithuanian officials have said.
The country's ambassador to the US complained that they insulted victims of Soviet-era persecution.
The Lithuanian foreign ministry said it had received confirmation the products would be removed.
Soviet leader Joseph Stalin ordered the deportation of more than 275,000 Lithuanians to Siberia between 1940-1952.
According to the Lithuanian genocide and resistance research centre, a further 21,000 were killed in armed resistance.
The items were described as "cool" on Walmart's website, and cost between $18 (£13) and $29.95.
The retailer has since however told the Lithuanian ambassador to the US, Rolandas Krisciunas, that they will stop selling the clothes.
Walmart operates in 28 countries but not in the Baltic states or other eastern European countries that were once part of the former Soviet Union.
The company has yet to respond to a request for comment from BBC News.