Russian aircrew deaths: Putin and Netanyahu defuse tension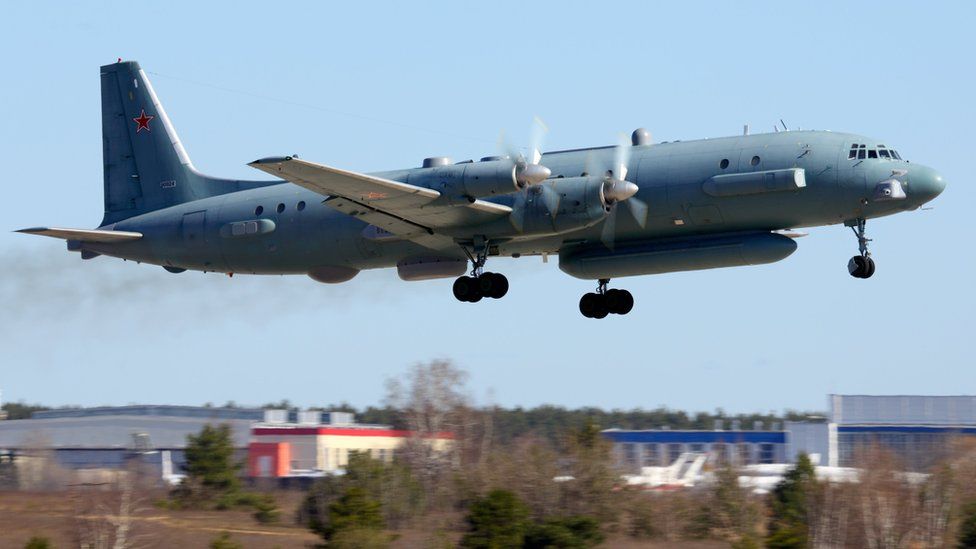 The leaders of Russia and Israel have sought to defuse tension after a Russian plane was shot down by Syrian forces amid an Israeli air raid.
In a call to Vladimir Putin, Israeli PM Benjamin Netanyahu expressed regret at the loss of 15 Russian personnel, but stressed again that Syria was to blame.
Mr Putin had earlier called the incident "a chain of tragic accidental circumstances".
The Il-20 plane was downed over the Mediterranean Sea on Monday evening.
Russia is supporting President Bashar al-Assad in Syria's civil war.
A case of diplomatic fence-mending
Mr Putin and Mr Netanyahu spoke by telephone on Monday, shortly after the Russian president had made his conciliatory statement in Moscow.
Mr Putin said at a media briefing: "It looks most likely in this case that it was a chain of tragic chance events, because an Israeli aircraft did not shoot down our aircraft. But, without any doubt we need to seriously get the bottom of what happened."
Mr Netanyahu addressed that issue in the telephone call, offering to provide "all necessary information" in the investigation of the incident, as well as expressing regret over the fatalities.
In the call, Mr Putin urged Mr Netanyahu "not to let such a situation happen in the future" and told him Israeli air operations breached Syrian sovereignty, Russian media said.
Russia's Defence Minister Sergei Shoigu had earlier said that Moscow "reserves the right to take further steps in response".
But Mr Putin said the "retaliatory measures" would be "aimed first and foremost at further ensuring the safety of our military personnel".
The BBC's defence and diplomatic correspondent, Jonathan Marcus, says the crisis will almost certainly blow over as Israel and Russia have a remarkably close relationship and Moscow has until now not interfered with Israeli operations.
What happened on Monday evening?
Russia's Tass news agency said an Ilyushin Il-20 reconnaissance plane had "disappeared during an attack by four Israeli F-16 jets on Syrian facilities in Latakia province".
The downing was reported to have occurred about 35km (22 miles) from the Syrian coast as the Il-20 aircraft was returning to Russia's Hmeimim airbase near Latakia.
The Israel Defense Forces (IDF) said its aircraft were targeting Syrian military facilities "from which systems to manufacture accurate and lethal weapons were about to be transferred on behalf of Iran to Hezbollah in Lebanon".
The Lebanese Shia militant group and Iran are both allies of the Syrian government. Israel has reportedly hit more than 200 Iranian targets in Syria over the past 18 months.
The Syrian Observatory for Human Rights monitoring group said some Israeli missiles did find the target and two people were killed on the ground. However, it could not confirm their identity and Syria has made no official comment.
How did the plane get shot down?
Both the Russians and Israelis agree it was Syrian anti-aircraft fire, although Syria has not commented.
Russia said it was given less than a minute's warning by Israel ahead of the strikes, which was not enough time to get the military surveillance plane out of the way.
It also said the Israeli planes had "used the Russian airplane as a cover", putting it "in the line of fire coming from Syrian air defence systems".
Israel disputes this. In a rare statement detailing its operations over Syria, the IDF said: "The Russian plane that was hit was not within the area of the operation... when the Syrian army launched the missiles that hit the Russian plane, (Israeli) jets were already within Israeli airspace."
The Russian defence ministry said body fragments, personal belongings and the plane's debris had been found by search ships in the Mediterranean on Tuesday.
Israel was adamant. The IDF said: "Israel holds the Assad regime, whose military shot down the Russian plane, fully responsible for this incident."
The statement also laid blame on Iran and Hezbollah.
In his phone call with Mr Putin, Mr Netanyahu insisted that Israel would continue to target Iran inside Syria.
In an initial statement, Russia said: "The Israeli planes deliberately created a dangerous situation for surface ships and aircraft in the area.
"As a result of the irresponsible actions by the Israeli military, 15 Russian servicemen have died."
A crisis that will blow over
Analysis by Jonathan Marcus, BBC Defence Correspondent
Russia is clearly angry. It has lost an aircraft and the lives of its 15-person crew. It needs to register its displeasure but is also reluctant to condemn its regional ally Syria.
Israel and Russia have a remarkably close relationship and a clear understanding about Israel Defense Forces (IDF) operations in the region. So might this episode change this?
I think that is doubtful. For one thing the air campaign in Syria is seen by Israel as a vital strategic necessity to thwart, as they see it, Iran's growing influence.
And for Russia to try to physically interfere with Israeli operations would go entirely against the policy pursued by Moscow up till now.
Why is a Russian aircraft in Syria?
Russia began military strikes in Syria in 2015 after a request from President Assad, who has stayed in power despite seven years of civil war which has so far killed more than 350,000 people.
Hmeimim is Russia's main base for air strikes on rebel groups in Syria - strikes that have enabled President Assad's forces to recover much lost ground since 2015.
Russia says its air strikes only target "terrorists", but activists have said they mainly hit mainstream rebel fighters and civilians.
According to The Syrian Observatory for Human Rights, a UK-based monitoring group, at least 7,928 civilians and 10,069 combatants have been killed in Russian strikes.