Marco Minniti: The man who cut the migrant flow to Italy
By James Reynolds
BBC News, Rome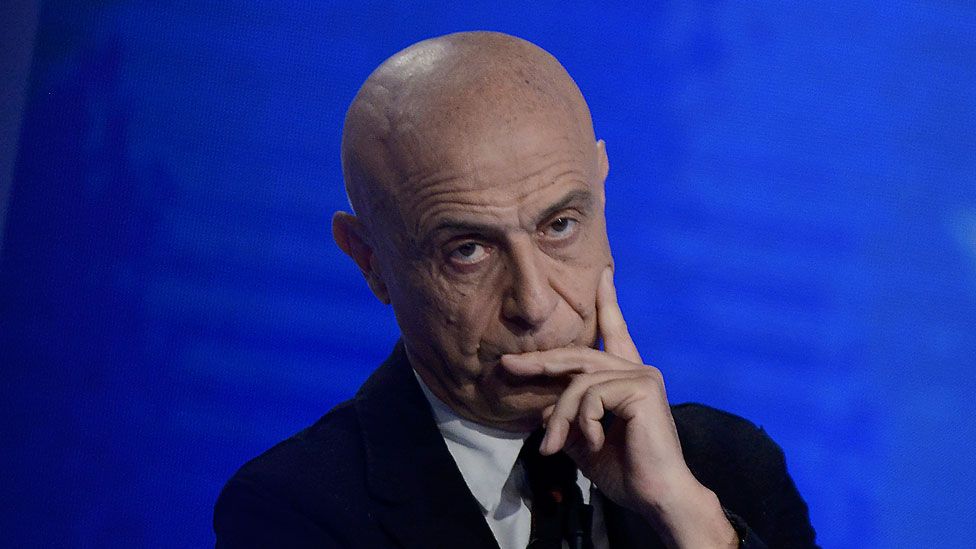 In his small office off a courtyard lined with citrus trees, 62-year-old Marco Minniti scrolls through the pictures on his phone, showing endless meetings with Libyan tribal leaders.
His office walls are lined with photos of Italian air force planes. A small pen holder, a gift from Tunisian officials, sits on his desk.
In power, Mr Minniti spoke rarely.
Now, out of office, he's keen to explain how he orchestrated a deal to reduce migration from Libya to Italy.
When he took over as interior minister in December 2016, migration was a continuing crisis. In just three years, more than half a million migrants had reached Italy after setting off from Libya by boat.
Italians angrily demanded action from the centre-left government. The new minister decided to make use of his long background in intelligence and security work.
His plan was simple: co-opt Libyan tribal chiefs into stopping migrant smugglers and traffickers.
His first official visit to the Libyan capital, Tripoli, was in January 2017 to meet President Serraj - and the other authorities.
"The desert tribes are fundamental," he says. "There's only so much technology and military resources you can deploy, but if you don't have the tribes, the Sahara is difficult to control."
By the summer of 2017, Marco Minniti had a deal in place with Libyan chiefs.
"We signed a small pact," he says.
"I asked them to break any links with the traffickers - and I said that Italy, Europe, and the international community were ready to help their communities financially."
The deal had instant results.
The Libyan coast guard began to intercept migrant boats, and numbers on this route fell by around 80%. But the Libya-Italy route remains incredibly dangerous.
The UN refugee agency says that the rate of deaths along the Mediterranean route has risen sharply, and there are questions about the dangers intercepted migrants face back in Libya.
The UN has said any deal that sends migrants back to detention and mistreatment in Libya is inhuman. I ask Mr Minniti how he responds.
"Of course - if you ask me, have we sorted the issue of detention centres in Libya? Obviously not. We still have a lot to do," he says.
"But the fact that the UN are in Libya and can visit the centres is a step ahead. We need to strengthen these steps."
The dramatic fall in numbers was too late to save the centre-left government. Voters saw no need to reward an administration which, they believed, had taken far too long to act over migration.
At the general election in March, populists came out ahead.
'There is no migrant emergency'
"We lost the election for two reasons," Mr Minniti reflects. "We did not respond to two feelings that were very strong: anger and fear. We lost contact with a big part of public opinion."
The new populist administration is dominated by Marco Minniti's successor as interior minister - the far-right leader Matteo Salvini.
I ask if he ever shouts at the TV when Mr Salvini claims he's the one who stopped migration.
"The point is this. Italy managed to show Europe and the world that you can manage migration, keeping two principles in mind: humanity and security. Now we're in another phase. There is no migrant emergency in Italy," he replies.
"But the new government can't say this - because if they did they would start liberating Italians from their fears. They need to stoke the issue, always finding an enemy."
But the populist strategy appears to work.
Matteo Salvini is Italy's most popular politician. By contrast, Marco Minniti sits in a small office in opposition.