Dutch rail crash: Four children killed in electric cart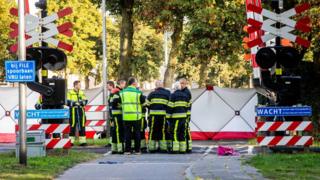 Four children from a Dutch day-care centre, two of them sisters, have died in a collision involving a train and an electric cart driven by a supervisor.
The children were being taken to local schools in the cart when the accident happened on a level crossing in the southern town of Oss, west of Nijmegen.
A fifth child and a woman were critically injured in the crash.
The woman on the back of the cart had just dropped off a child at one school before setting off for another.
Two of the children who died were four years old, and the others were aged six and eight, police said.
Of the five children involved in the tragedy, three were sisters and two of them died. The surviving sister, aged 11, was being treated in hospital along with the 32-year-old woman.
Mayor Wobine Buijs-Glaudemans told a news conference that everyone was affected by what had happened near Oss-West station, and her thoughts went out to those families caught up in the accident. "There are no words to describe what they're going through," she said.
What led to crash?
The level crossing has barriers for cycle paths as well as cars, but the cart carrying the five children is thought to have gone under the barrier on a bike path before it was hit.
The woman driving the cart was heard by one witness shouting that the brakes were not working. Others said 15 cars had been waiting at the level crossing when the cart had gone past without slowing down.
Children have for years been taken to school by cargo bike in the Netherlands, and electric carts known as Stints have become increasingly popular with some 3,500 in use across the country.
Described as a cross between a segway and a cargo bike, anyone can use a cart over the age of 16 after taking a short course. The cart has a maximum speed of 17km/h (11 mph).
Edwin Renzen, who co-founded the Stint Urban Mobility company which makes the cart, told public broadcaster NOS that the accident was every parent's worst nightmare and he was intending to visit the scene.
Several childcare groups said they would suspend their use of Stint carts until it was clear what had gone wrong.
'Unacceptable' casualties on level crossings
The tragedy came as a shock for residents in Oss, where a help centre was set up.
An average of 11 people are killed on Dutch level crossings every year and the Dutch Safety Board (OVV) released a report in July saying the number of casualties was "unacceptable" in "the only country in Europe with both a high volume of train traffic and a large number of level crossings".
The OVV was responding to three accidents in 2016 and 2017 in which two people had died and 18 were hurt. Most accidents had happened on manned level crossings, it said, calling for action to prevent people going over the crossings when barriers were down.
A reporter from Dutch RTL News tweeted a picture of a young boy laying flowers at the scene of the accident, with the simple message: Oss.
Rail officials on Thursday spoke of an "ink-black day" and infrastructure secretary Stientje van Veldhoven said she had a "knot" in her stomach. "From the bottom of my heart, all the best to everyone involved."
Prime Minister Mark Rutte tweeted that he was deeply moved by the "horrific accident".