Mission implausible: Russians mock improbable spy duo
By Sarah Rainsford
BBC News, Moscow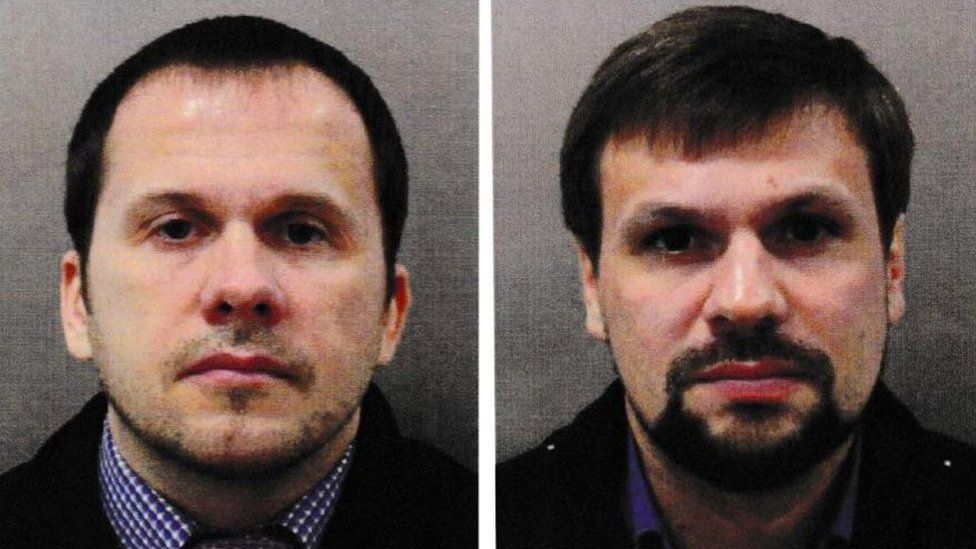 The story spun by the two Russian suspects in the Salisbury poisoning was met with snorts of derision in the UK. But less predictable is the mockery that seemingly tall tale is getting back home in Russia.
The appearance by Alexander Petrov and Ruslan Boshirov on Kremlin-funded TV to claim that they were tourists - not hired assassins - has been widely ridiculed in Russia.
It has left some wondering about the judgement of those in charge.
Bungled attempt to impress Putin?
Gennady Gudkov had always suspected the Salisbury attack was the work of Russian agents. When the former KGB officer saw the men on TV - straight after President Vladimir Putin had called on the pair to appear and explain themselves - any lingering doubts disappeared.
"It would clearly have been better for the men to stay silent," Mr Gudkov argued, in an office decorated with medals testifying to his own years in service. "All thinking people in Russia are asking 'what was that? what was it for?'"
He is now sure the men are agents of Russian military intelligence, the GRU.
His own sources suggest the attack on Sergei Skripal, a GRU officer-turned-traitor, was a bungled attempt to impress President Putin by an agency pushing for more influence and power.
But he cannot understand why the suspects were ever put on TV.
"What was Putin thinking? I think it shows degradation among those in power. They've lost the ability to do anything normal. The system is falling apart."
It looks like the official cover story is collapsing too.
Did suspects have intelligence passports?
Foreign Ministry spokeswoman Maria Zakharova on Thursday likened stories linking Russia with the poisoning to the legend of the Loch Ness Monster. "Everyone has seen them, everyone has talked to them… but closer inspection reveals that it's all fake," she said.
But the investigative team at Bellingcat has obtained a passport form for Alexander Petrov.
One stamp at the top reads "Do not Divulge".
Another marking could be an abbreviation for Top Secret with what seems to be a defence ministry phone number alongside.
The document appears to be authentic.
A woman at the apartment marked on the form told the BBC she had been living there for four years.
She never met the previous owner, but after moving in she received multiple traffic fine notifications addressed to Alexander Petrov.
Bellingcat has now released further material, including evidence that suggests the Salisbury suspects' passports were issued in the same batch as a known GRU operative.
State media went into overdrive after the TV "interview", presenting the men as innocent enthusiasts of Gothic architecture.
A suggestion that they were in fact a gay couple on a weekend away - first hinted at by their interviewer - was frequently highlighted.
Outside Russia, many commentators saw an act of blatant defiance: raising two fingers to Britain and its accusations.
It is an area where Moscow has form. Accused of everything from election meddling in the US to complicity in downing flight MH17 over Ukraine, Russia has spun parallel narratives and sown maximum doubt.
But the public reaction this time suggests officials have gone too far.
'Society is laughing at authorities'
"Those who want to believe still do, but others say it's a disaster," argues Alexander Baunov of the Carnegie Moscow Centre, who describes the TV appearance as ridiculous.
"If the level of our special services is so low, people wonder what we can expect from anyone else," he adds.
Mr Baunov thinks the nerve agent attack was an attempt to send a "silent signal" to any Russians contemplating betrayal. He believes the intelligence community has been unnerved by a surge in recruitment approaches by Western agencies, in a climate of renewed hostility.
But the cover-up seems to have backfired as badly as the actual operation. Instead of quaking with fright, many Russians are laughing at their spies instead.
"It's not just teasing, it's mockery. I have friends who couldn't believe our lot could be so rotten," Gennady Gudkov admits. "Now they call me, and they believe."
With jokes and memes flooding social media, some commentators suggest a line has been crossed.
"What seemed morally unacceptable before has become the new norm, it's routine," Andrei Kolesnikov wrote on Gazeta.ru, calling the Salisbury suspects' appearance a "clown show" and their story "obvious, evasive lies".
But he sees another new norm in response.
"Society is laughing at the authorities," the journalist wrote. "State propaganda is becoming genuinely comic and that discredits and weakens those in power."
That reaction is not limited to the Skripal case.
Commentators also highlight an extraordinary video posted online by the head of Russia's National Guard in the same week, calling the Kremlin critic Alexei Navalny to a duel.
In full uniform, Viktor Zolotov threatened to turn the opposition politician into mincemeat, waving his fist and arguing that what Mr Navalny needed was a "good hiding".
Presumably meant to strike fear, the video provoked a barrage of scorn instead, as a series of public figures recorded parodies of the general's foul-mouthed challenge.
"The picture is one of a spiral of decreasing control," argues Alexander Baunov, who sees the threat as another sign of hardliners attempting to impose order at home, as well as abroad.
There is a more immediate risk for Russia, though, in the Skripal story. The suspects were wheeled out just as the United States considers introducing further, tougher sanctions on Moscow, linked to the chemical attack.
"Internationally, the timing could not have been worse," Alexander Baunov points out, suggesting that behind the smirks and bravado officials are worried.
"It will be almost impossible for the US government not to impose the next set of sanctions," he believes. "It could be quite disastrous."