What just happened in Salzburg? The EU view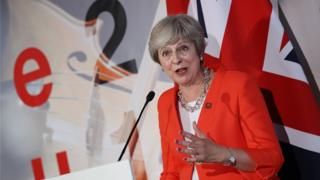 The Brexit action plan for EU leaders coming to Salzburg - briefed over and again in advance of the summit in off-the-record conversations with European diplomats - had been to spout words of support for Theresa May to help her secure an EU/UK Brexit divorce deal not just with Brussels, but with political opponents back home.
But this summit has now ended, leaving a decidedly bitter taste in the mouth and a sense that this will be a long and very difficult autumn of negotiations with a real prospect of no deal at the end.
So what just happened?
The EU's "support Theresa" effort was actually launched the day before the summit with chief Brexit negotiator, Michel Barnier, suggesting a "new, improved" proposal on the key sticking point of the Irish border.
With the intention of directly addressing UK concerns, Mr Barnier also made explicit assurances that no-one in the EU wanted to break up the constitutional integrity of the UK.
Now, this "new plan" for the border wasn't really new at all, but EU leaders never intended to compromise their position on Ireland or their rejection of Theresa's May's Chequers proposal for the future economic partnership between the EU and UK.
Their Brexit aim for this summit was to go as far as they could with words and gestures to throw Theresa May a lifeline.
But their tokenistic effort was a misreading of Theresa May's political position - especially ahead of what is likely to be a difficult annual conference with her own Conservative Party.
The prime minister swiftly and bluntly rebuffed the Barnier Irish border suggestions - thereby misreading EU leaders right back.
There was huge irritation in EU circles - and that's how this summit began.
EU frustration only grew when the prime minister then arrived in Salzburg insisting unequivocally that her Chequers Brexit proposal was the only way forward.
Theresa May's uncompromising tone was then matched note by note by the EU and here we are now.
The fact that EU leaders had already pointed to problems in the Chequers proposal long before this summit; the fact that they praised other parts of the prime minister's plan, such as her thoughts on security; the fact that numerous European prime ministers said here in Salzburg that there was more hope now that there could be a successful Brexit deal, thanks in part to the prime minister's Chequers plan - all that has now been eclipsed.
But let's face it, critics and political rivals of Theresa May were waiting and watching this summit for storm clouds to gather over Chequers.
That now is the focus of their attention.
And perhaps - if Theresa May can survive this next political storm at home - it rather suits both the EU and the UK in the long term to have the public perception of Brexit negotiations now as fraught. So that if a Brexit deal does finally emerge later this autumn, the perception will be that it was hard fought and hard won.