European press views May 'ambush' with sympathy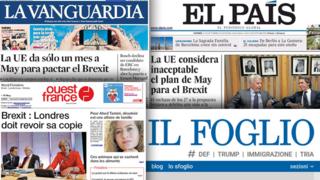 There are harsh words in Europe's newspapers for the way UK PM Theresa May was "ambushed" during the Salzburg summit, but many believe she may have misjudged her approach.
"Theresa May showed too much arrogance. She miscalculated, as David Cameron did," Spain's El Pais says in an editorial on Mrs May's "ultimatum" to EU leaders on Brexit.
"Mrs May wanted to flex her foreign muscle to the ultras of the Conservative Party before their annual conference. Big mistake. She misinterpreted German Chancellor Angela Merkel and European Council President Donald Tusk's good intentions as support for her plan, rather than a demonstration of diplomatic courtesy."
For Spain's La Vanguardia, "the EU has activated the timer". It says: "The futures of the UK...and of Mrs May are at stake. Her ex-minister Boris Johnson, who is anti-European from head to toe, is already rubbing his hands."
"Salzburg sadness for May" is the headline in Italian conservative daily Il Foglio. "France gets tougher on the UK with every passing day. Brexit cannot go well because it is a symbol, an embankment for Eurosceptics from other countries. Macron wants no compromise, even some adjustments, because the EU cannot make last-minute changes. It's either inside or outside of the common market, there's no third way."
"Poor Theresa May, poor United Kingdom," says Dutch centre-left daily Volkskrant. European leaders "sent her away from Salzburg yesterday, where she had tried meticulously and desperately to gain sympathy for a Brexit that would not throw her population back to the Middle Ages completely".
France's Le Nouvel Observateur magazine demands to know: "After the 'ambush' against May, which scenarios can help avoid chaos?"
"The 27 have definitively decided to pressure London, but in a carefully staged manner. They dined without Theresa May to harden their position. Then European Council President Donald Tusk met her to conscientiously demolish her Chequers plan and to ask her to find an Irish border solution before 18 October. Finally, Emmanuel Macron took out the heavy weapons, accusing Brexiters of having lied to their people."
All this has had the uncomfortable effect of "shaking a stick inside an anthill", it suggests.
Meanwhile, Austria's centre-left Die Presse compares the talks to a draw in a football game, suggesting that Brexit negotiations "will go into extra time".
Poland's conservative daily Rzeczpospolita sees Salzburg as the "Paralysis of common Europe". It says: "The EU is unable to handle any of the crises it is facing, neither migration, Brexit nor relations with the US."
"Brexit is yet another reef that can crash the EU vessel," the daily adds.
And for Irish Independent commentator John Downing, the situation is verging on "chaos" - even inside Ireland itself.
"Yes, let us acknowledge that so far the government has done well in securing EU assurances of solidarity with Ireland... But that does not gainsay that our Brexit preparations are poor and belated."
He says it was only this week the Irish government began recruiting extra customs officials.
For Germany's tabloid Bild, Theresa May is "banging her head against a brick wall with her new Brexit plans".
"Chaotic Brexit is looming as Chancellor Merkel stands firm on the single market," argues Germany's liberal economic daily Handelsblatt. "The Brexit negotiations are at an impasse and the EU leaders cannot find a way out. The nail-biting game... may last for months."
BBC Monitoring reports and analyses news from TV, radio, web and print media around the world. You can follow BBC Monitoring on Twitter and Facebook.