Venice considers nightly ban on carrying alcohol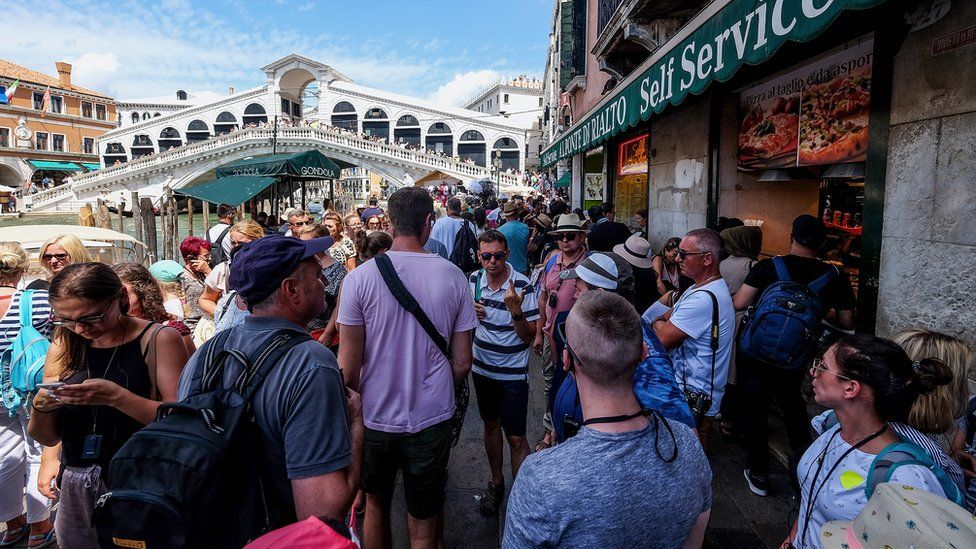 Venice is set to ban carrying bottles in the streets in its latest effort to combat the torrent of tourists that flood the city every year.
The city is considering fines for anyone found carrying alcohol after 19:00 - even sealed in shopping bags.
Police say they do not plan to stop Venetians on their way home from the shops, but rather drunk revellers.
Millions of tourists visit the historic centre of Venice each year, but just 55,000 people live there.
The measure, due to be passed in October, covers "transport for consumption" in a public space without a "justified reason", and applies to alcoholic beverages of any type, Italy's Ansa news agency reports.
The Venetian edition of the Corriere Della Sera newspaper called it "one of the strictest regulations in the entire north-east" of Italy.
Speaking to Ansa, local police commander Marco Agostini, said he would not be targeting anyone leaving supermarkets having purchased alcohol. Instead, the proposed rules were for when "someone gets drunk and has a bag with three bottles of beer", he said.
The city recently announced controversial plans for a ban on sitting or lying on the ground, also due to be voted on in October.
If that goes ahead, tourists could reportedly face fines of anywhere from €50 to €500 for sitting on an unauthorised surface.
But Venice is already known for its strict rules.
A ban on sitting down is already enforced at the most crowded tourist spots, with officials moving those who rest on the steps in St Mark's square - with potential fines of €200.
€450 for swimming or diving in the canals or any other waterway
€200 for wearing swimwear or going topless - including men
€50-€200 for feeding birds, or leaving, scattering and abandoning food waste
€100 for using a bicycle - or even wheeling one while dismounted
Venice is comprised of more than 100 small islands linked by hundreds of bridges, meaning the obstruction of the narrow channels over the canals can be a major problem.
The number of regulations being imposed has led some residents to complain that it is harming the city - which is losing more permanent residents each year.