Jan Kuciak murder: Three people charged with journalist's killing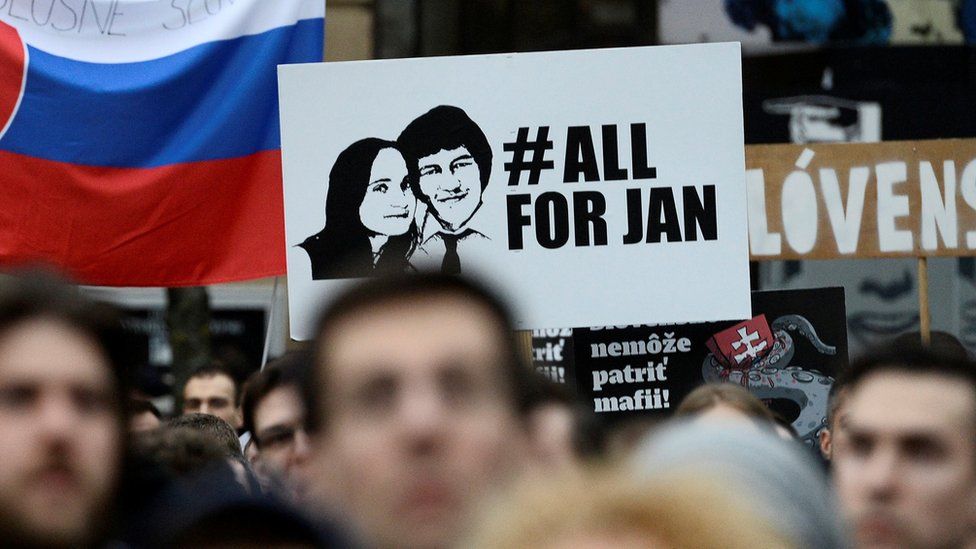 Slovak police have charged three people with the murder of an investigative journalist and his fiancée.
Jan Kuciak and Martina Kusnirova were shot dead in February in what was the first targeted killing of a reporter in the country's history.
Kuciak, 27, had been investigating alleged political corruption linked to Italian organised crime at the time.
The suspects were among eight arrested on Thursday in a raid on a house.
The prosecutor's office said on Friday the other five had been released. According to Slovak media, one of those arrested had links to the police.
The state prosecutor is asking a judge to keep the three - who have been charged with "premeditated murder and other crimes" , according to a spokeswoman - in custody.
Prosecutors have previously said they believed Kuciak was killed to stop his investigation.
His unfinished article, which was published after his death, alleges that businessmen in eastern Slovakia - with links to Calabria's notorious 'Ndrangheta mafia - are embezzling EU structural funds.
Kuciak also claims that they have political ties in the country.
A number of people mentioned in his article were detained by police in the aftermath of his death, but all were later released.
After the killings, then-Prime Minister Robert Fico offered an €1m ($1.2m) reward in return for information.
Current Prime Minister Peter Pellegrini welcomed the arrests on his Facebook page.