Dutch arrests: Bomb-making materials seized by police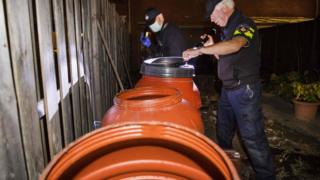 A day after seven men were arrested on suspicion of planning a major attack, Dutch police have seized bomb-making materials including 100kg (220lb) of chemical fertiliser.
Prosecutors say the fertiliser was of potential use in a car bomb while the other explosives could have been used in bomb vests.
More details have emerged about the suspects, the youngest of whom is 18.
They are suspected of plotting to attack a big event in the Netherlands.
Dutch officials believe they were also planning a simultaneous car bomb attack elsewhere and were hoping for a large number of victims.
Neither target was identified but the arrests were said to be linked to jihadist attempts to attack Europe.
A funfair about to take place in the southern town of Weert, where some of the suspects were arrested, was not linked to the plot, officials stressed.
Who are the suspects?
All seven men were detained on Thursday, several of them in the eastern city of Arnhem. They appeared in court in Rotterdam on Friday and were remanded in custody.
Prosecutors believe the group was headed by a 34-year-old man of Iraqi Kurdish origin called Hardi N, who was arrested in 2014 for trying to travel to fight for jihadist group Jabhat al-Nusra in Syria. He had spent three months in jail and was still serving a suspended sentence.
His brother told public broadcaster NOS that the allegations of a plot were nonsense.
Police posted dramatic footage of the arrests, showing some of the suspects being dragged out of a van with a French licence plate in Weert as well as a flat being stormed in the Presikhaaf area of Arnhem.
Hardi N was among four suspects detained in Arnhem. The others were an 18-year-old, and two men in their twenties who had previously been detained by Turkish authorities close to the border with Syria.
One of the pair, named as Wail el-A, had been arrested last year for taking photos at a Dutch airbase.
Prosecutors said the suspects were in possession of small weapons when they were detained, but that they were looking for AK47s, hand guns, grenades and explosive belts.
Prosecutors say they were allegedly seeking firearms training and were arrested in possession of five small handguns.
The threat level in the Netherlands is currently set at four out of a maximum five. Dutch Prime Minister Mark Rutte said a drama had been prevented and he appealed for vigilance. "The threat of an attack is still real," he said.