Macedonia referendum: Name change vote fails to reach threshold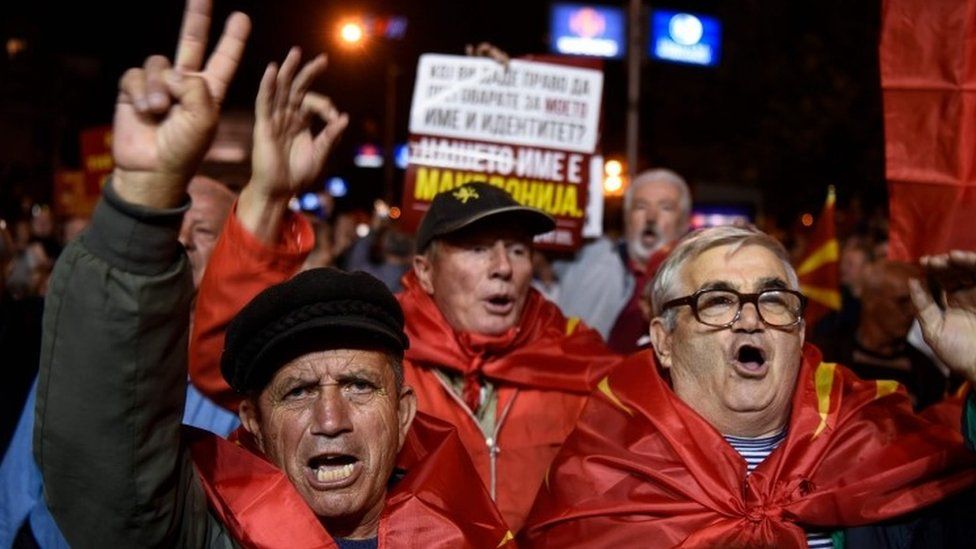 Macedonia's vote on changing its name to North Macedonia looks to have fallen far short of the turnout required.
Preliminary results show that just over a third of Macedonians voted in the referendum, with 50% needed.
But with 90% of those who took part in favour of the change, the country's prime minister has urged parliament to "confirm the will of the majority".
The vote aimed to end a long-running dispute with Greece, which has its own region called Macedonia.
Athens had agreed to end its objections to Macedonia's EU and Nato membership bids if the change was passed.
Over 85% of votes have been counted so far, but a campaign by some nationalists - including the country's president - to boycott Sunday's referendum seems to have had an impact, with just 36% of eligible voters taking part.
Prime Minister Zoran Zaev threatened to call early elections if parliament did not support the proposal, made non-binding by the poor turnout.
"If, as we all expect, we truly have a big visible, tangible majority for [voting in favour], out of those who voted, then the future is clear," he said after polls closed on Sunday.
"The vote of the MPs in parliament must resolutely be a vote for a responsible acceleration of the processes towards Nato and the European Union."
Macedonia declared independence during the break-up of Yugoslavia in 1991. But Greece objected to its new neighbour's name.
The dispute harks back to ancient history, because both present-day Macedonia and northern Greece were part of a Roman province called Macedonia. And both claim the heritage of Alexander the Great two centuries earlier.
Greece's objections forced the UN to refer to the new country as "the former Yugoslav Republic of Macedonia".
Athens also vetoed Macedonia's attempt to join Nato in 2008 - and blocked its EU membership ambitions.
What was the proposed solution?
The addition of one word to Macedonia's constitutional name: North.
Since 1991, many suggestions have been proposed, then rejected. But last year's change of government in Macedonia finally brought the start of serious negotiations.
"Our citizens were sick of that problem," says Macedonia's information minister, Damjan Manchevski. "It had been weighing on Macedonia for such a long period of time and not letting us advance."
What's in it for Macedonia?
Greece will end its veto on Macedonia's accession to Nato and the EU.
"We don't change our name because we want to do it," Mr Zaev told the BBC. "We do it because of our future in the EU and Nato. Everyone is aware why we do it."
That applies particularly to Macedonia's younger citizens.
"Young people in Macedonia are a quarter of the population - and they're one of the largest marginalised groups," says Dona Kosturanova of the Youth Educational Forum.
"They're struggling with poor education, high unemployment and few opportunities for prosperity. They're desperate to see advancement towards a prosperous environment."
Opponents say the country has been bullied by Greece and the EU, pointing to the fact that top European politicians urged the voters to back the change.
The leader of the main opposition party, Hristijan Mickoski, was quoted as saying that the proposed deal "will humiliate Macedonia".
President Gjorge Ivanov was among those who said they would be boycotting the vote. He described the proposed deal as "historical suicide".
Meanwhile, Russia has been accused of fomenting opposition to the name change to stop Macedonia drifting into the West's orbit. Moscow denies the claim.