Hot air balloon hits pylon in Germany, with six rescued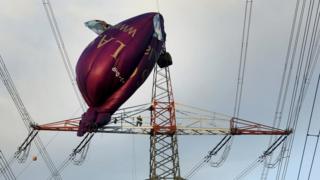 A hot air balloon became tangled in an electricity pylon in western Germany, firefighters have said, stranding six passengers 65m (213ft) above ground.
The balloon became caught at about 17:30 local time (15:30 GMT) on Sunday, authorities in the city of Bottrop said.
Passengers were individually abseiled to safety in a six-hour operation, and all were taken to hospital as a precaution.
The cause of the crash is not known.
The balloon struck the top of the pylon on Essener Street in the south of the city, a local fire brigade press release said.
Firefighters called up to the passengers by megaphone, before they managed to get in touch by phone.
Only the balloon itself hit the wires, rather than the basket - protecting all aboard from the electricity.
Power to the pylon was shut off as firefighters climbed the mast and secured the basket.
Each passenger was then rappelled down one by one.
Nobody was hurt in the crash, although two suffered slight shock.
Work got underway on Monday to remove the balloon from the wires, while authorities have launched an investigation into the cause of the crash.