Dutch ban electric child cart after Oss rail deaths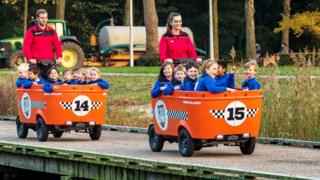 The deaths of four children in a railway collision last month have prompted the Netherlands to impose an immediate ban on the type of electric cart they were in.
The children were hit by a train as they travelled in a Stint, which has become popular in recent years with schools and nurseries.
Some 3,500 of the carts were being used in the Netherlands.
The man behind the Stint said the ban could spell the end of his company.
Stints have become a common sight in the Netherlands, particularly to transport young children to and from school. They are described as a cross between a Segway and an old-fashioned cargo bike, with a driver at the back and up to 10 children inside, strapped in with a seatbelt.
On 20 September a 32-year-old woman from a daycare centre in the southern town of Oss was transporting a group of children in a Stint when she went over a level crossing and a witness heard her shouting that her brakes had failed.
A train ploughed into the cart, leaving four children dead, aged four, six and eight. Two were sisters.
The driver and a fifth child were seriously injured.
An inquiry ordered by the Dutch government is still under way, but its preliminary findings highlighted "reasons for doubt over the technical construction", according to the infrastructure ministry.
"This could lead to the Stint coming to a stop or the brakes simply no longer working," said the ministry, warning that the conclusions posed a risk to the driver, children and others.
Notice of the ban came late on Monday, meaning that childcare centres, which have come to rely on Stints, were faced with an immediate problem of how to pick up children for school on Tuesday morning.
"The deadline for us to sort out alternative transport is of course quite a challenge," said Karin Moons whose childcare group had relied on 22 Stints.
The Dutch government approved the use of Stints in 2012, allowing them to be used without a driver's licence or helmet.
The founder of the company that made the cart, Edwin Renzen, complained that the ban was bizarre and based on a "single hypothesis drawn up on the basis of one report".
The minister behind the decision had no idea of the impact her decision would have on society as 20,000 children would be affected, he said.
Mr Renzen insisted his product was safe and that the Stint involved in the crash had not itself been investigated.