Finland school poster sparks migration row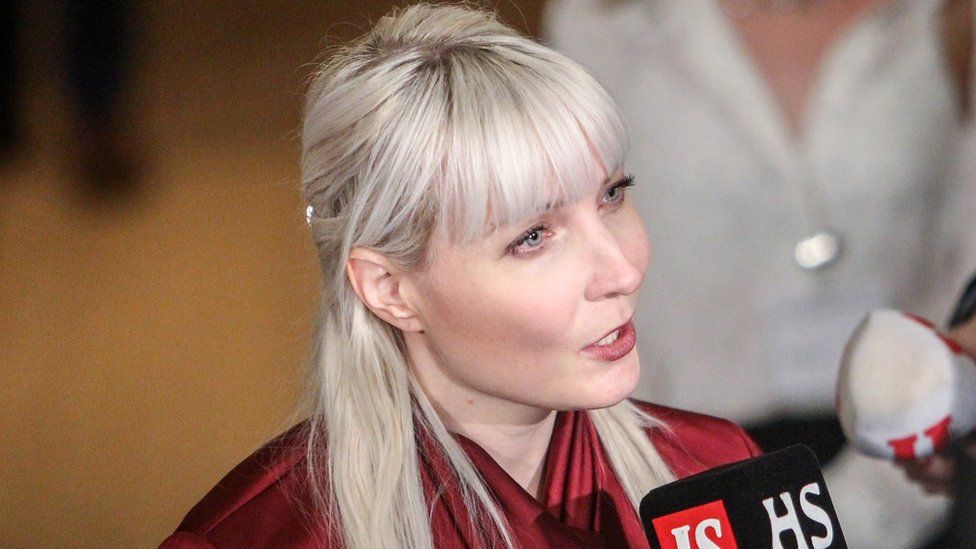 A Finnish school has become embroiled in an argument with a nationalist MP, who accused it of "encouraging hatred" over an immigration-themed project.
Laura Huhtasaari tweeted a photo of a school poster captioned "Finland or Death", featuring a migrant boat and prominent Finnish politicians.
The poster has prompted a heated debate over whether it was appropriate for a social studies project.
The MP's picture featured on the poster but so did the students' first names.
What did the poster show?
The three 15-year-olds from Tampere in southern Finland designed the poster as part a city-wide event to highlight social issues. They chose immigration as their theme, depicting migrants in a cramped boat facing a choice of who to turn to.
To the left of the boat, under the name "Suomeen" (to Finland), the students stuck photos of President Sauli Niinisto and Greens MP Pekka Haavisto, while Ms Huhtasaari and her party leader Jussi Halla-aho are displayed to the right of the boat under the caption "to Death".
The BBC is not responsible for the content of external sites.
Skip twitter post by Cai Weaver
Allow Twitter content?
This article contains content provided by Twitter. We ask for your permission before anything is loaded, as they may be using cookies and other technologies. You may want to read Twitter's cookie policy, external and privacy policy, external before accepting. To view this content choose 'accept and continue'.
The BBC is not responsible for the content of external sites.
End of twitter post by Cai Weaver
As the debate surrounding the poster intensified, a security guard was posted outside the school on Wednesday in response to the children's names and their school being made public, Finnish media reported.
What has the reaction been?
Ms Huhtasaari, a former teacher who belongs to the anti-immigration and Eurosceptic Finns party, expressed outrage at the project in her tweet.
"Several students have contacted me and said that teachers at the school engage in hate speech and incite and encourage hatred towards democratically elected politicians. This is happening at primary and upper secondary schools," she tweeted on Sunday.
In response to her remarks some Finns questioned the school's actions, while others called for the teacher responsible for the project to be sacked.
Others criticised Ms Huhtasaari for publishing the students' first names, exposing them to an online backlash and threats of violence, reports public broadcaster YLE.
The head teacher said the photo of the pupils' poster was taken out of context, as the students had been asked to create a poster that expressed a position on a social issue.
"They did their own posters, nobody told them what subjects to do their posters about. They wanted to have an opinion on their own subject," she told News Now Finland.
Formerly known as the True Finns, anti-immigration rhetoric is one of their signature themes.
The party says immigration to Finland from outside the EU should be permitted only in cases where it brings economic advantage.
Ms Huhtasaari was the Finns party's candidate in Finland's 2018 presidential election, but only secured 6.8% percent of the vote.