Milorad Dodik: Serb nationalist wins Bosnia presidency seat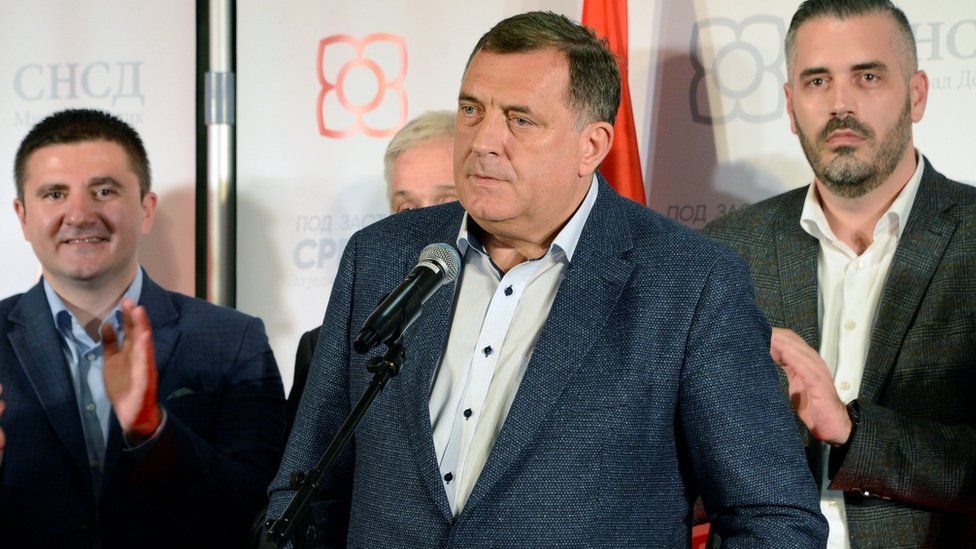 Bosnian Serb nationalist leader Milorad Dodik has won his community's seat on Bosnia-Herzegovina's three-person presidency, election officials say.
Mr Dodik, who has close links with Russia, has urged Bosnian Serbs to secede, saying Bosnia has failed.
The main Bosnian Muslim party, the SDA, said its candidate Sefik Dzaferovic would be the Muslim representative.
Croat voters returned centrist Social Democrat Zelijko Komsic to their presidential seat.
Turnout for Sunday's vote was 53%, election commission president Branko Petric told reporters.
If officially confirmed, Mr Dodik will take turns as head of state with the two other winners.
The three-member collective presidency - Croat, Bosnian Muslim (Bosniak) and Serb - was established as part of the US-brokered 1995 Dayton peace deal that ended the war in which 100,000 people died.
The country is still split into two entities - the Serb Republic (Republika Srpska) and the Muslim-Croat Federation.
Why is Dodik so divisive?
Mr Dodik, who has led Republika Srpska since 2006, defeated the incumbent Bosnian Serb member of the three-member presidency, centre-right politician Mladen Ivanic.
"My first priority will be the position of the Serb people and of the Republika Srpska," he said, claiming victory in the northern town of Banja Luka.
"I believe that Bosnia-Herzegovina also may progress if everyone is respected."
Even aside from his calls for secession from the Bosnian state, Mr Dodik is a divisive figure on the national scene.
He was a key supporter of a controversial referendum to make "Republika Srpska Day" a holiday on 9 January - marking the founding of the state in 1992, which was one of the triggers for the bloody war that followed.
He has consistently challenged national institutions in favour of those in Republika Srpska.
How complex was the vote?
The run-up to the election was marred by ethnic abuse and intimidation, observers say, more than 20 years after Bosnia was torn apart by civil war.
Under Bosnia's complex political system, voters had to elect a total of five presidents and 14 prime ministers.
Candidates stood for the central government - two chambers of parliament and the tripartite presidency - plus governments for the two separate entities.
In Republika Srpska voters had to elect MPs, a president and two vice-presidents. In the Muslim-Croat Federation a bicameral parliament had to be elected that included a president and two vice-presidents.
In addition, voters cast ballots for assemblies that run the federation's 10 cantons. In all, nearly 7,500 candidates stood for 518 offices across the country.
The parliamentary results will be announced later on Monday.
Election monitors complained that campaigning was marred by ethnic leaders using divisive rhetoric harking back to the war.
Analysis by Guy De Launey, BBC News, Belgrade
One in five people are unemployed and almost half the country's young people can't find a job. Those who are in work earn an average of around €400 (£350; $460) a month.
Many people have lost hope that the country can offer them a future. Almost 200,000 have left to work abroad in the past five years - 5% of the population.
But Bosnia's politics remain firmly based on ethnic leaders using fear to divide, rule and profit and this election will be no different. The EU announced a grand plan for reforms three years ago, but there's been little progress.
Whatever the results, it's not clear that a new government could actually be formed. The Constitutional Court invalidated parts of the electoral law two years ago, and parliament has failed to revise it.