Khabib Nurmagomedov v Conor McGregor: Dagestan celebrates win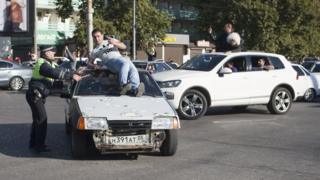 People in the Russian republic of Dagestan have taken to the streets to celebrate Khabib Nurmagomedov's Ultimate Fighting Championship victory over Conor McGregor.
The Dagestani - who has never lost in his career - beat his Irish opponent in the fourth-round of the Las Vegas mixed martial arts (MMA) fight.
Ugly scenes marred the victory, with a brawl erupting immediately afterwards.
Nurmagomedov is the first Russian citizen to win a UFC title.
Supporters in his home town of Makhachkala, the republic's capital, were jubilant in the moments after the fight.
There has been widespread criticism of the scenes following Nurmagomedov's victory.
Former UFC title contender Dan Hardy called for him to be suspended, while his father Abdulmanap reportedly said he would punish his son himself to teach him a lesson for his bad behaviour.
"We must have discipline and order," he told Russian Channel One TV. "In the ring you can do whatever you like. But beyond its bounds things have to be peaceful."
His fighter and his trainer, Nurmagomedov's father was denied a US visa and could not travel to Las Vegas to see his son's win.
However, he was reportedly filmed addressing the crowds after the bout.
Makhachkala residents however did not seem to care about the controversy swirling around their champion.
Many donned traditional furry Dagestan hats which the fighter himself has made popular.
Bordering Chechnya to the west and the Caspian Sea to the east, Dagestan has high levels of violence thanks to separatist, ethnic and Islamist tensions.
The republic is famed for its ethnic and linguistic diversity, being home to more than 30 languages, while several dozen Muslim peoples have settled among the high valleys over the centuries.
Dagestan jubilant
By Sandro Vetsko, BBC Monitoring
In Dagestan, there is jubilation.
"Hurray, Russia, our spirit is undefeatable!" veteran Dagestani politician Ramazan Abdulatipov wrote on Instagram.
"Well done Khabib, he withstood all the dirty attacks and won like a real man".
But many are worried about possible sanctions after the brawl in Las Vegas.
"America can whip up hysteria as much as it likes, and impose sanctions which will rid Habib of both his money and his career," says a comment on the Forum Dagestan website.
For some in Russia, it is McGregor's behaviour that is a subject for concern.
"Doing things for show and starting scandals is different from winning in the ring. Too much noise, and yet he was defeated," TV host and senior member of the Russian parliament's upper house, Alexei Pushkov, tweeted.
Official Rossiya 1 TV hails the Dagestani fighter as "our Khabib" who "almost literally tore McGregor's head off".
However, not all Russians were proud of Nurmagomedov. "It is Khabib who won, but it is I who feel ashamed," popular blogger Ruslan Usachov tweeted.