Ukraine ammo dump blasts blamed on 'possible sabotage'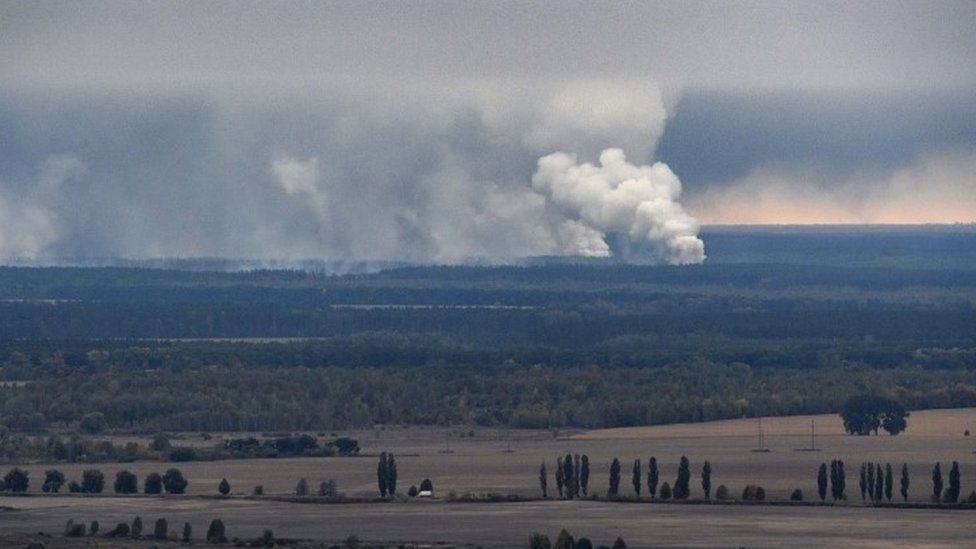 Explosions and fire have hit an ammunition depot in Ukraine in a possible act of sabotage, officials say, leading to the evacuation of thousands of people.
Videos on social media showed the blaze and explosions on the horizon near Ichnya, Chernihiv region.
About 12,000 people were moved from the area around the depot, about 109 miles (176km) north-east of the capital Kiev, emergency services say.
There were no casualties.
Deputy commander of the General Staff, Rodyon Tymoshenko, told a news conference the incident began with four explosions across the depot.
"The intensity of the blasts suggests that it was most probably sabotage," he said.
Security services are now investigating the incident.
Ukrainian Prime Minister Volodymyr Groysman earlier tweeted that local authorities would provide accommodation for the evacuated, and that emergency services were on hand to help people.
The initial explosion at the base occurred at about 03:30 local time (00:30 GMT).
The BBC is not responsible for the content of external sites.
Skip twitter post by Jonah Fisher
Allow Twitter content?
This article contains content provided by Twitter. We ask for your permission before anything is loaded, as they may be using cookies and other technologies. You may want to read Twitter's cookie policy, external and privacy policy, external before accepting. To view this content choose 'accept and continue'.
The BBC is not responsible for the content of external sites.
End of twitter post by Jonah Fisher
From 04:22 a 20km radius airspace closure came into effect, emergency services say. Rail and road links in the area are also suspended, and gas and electricity supplies have been disrupted.
Ammunition depot explosions have happened before in Ukraine, as the country continues its fight against pro-Russian separatists in its eastern regions.
Moscow denies sending troops and weapons to help separatists in the conflict, but admits that Russian "volunteers" are helping the rebels.
Ukraine points the finger fast
By Jonah Fisher, BBC News, Kiev
Ammunition depot explosions are unfortunately regular occurrences here.
In part that is due to the large amount of Soviet-era munitions that Ukraine still has and in part because much of it is being stored inadequately, or even kept in the crates in the open rather than secured underground.
Each time another depot combusts the question is raised as to whether the fault lies with the shoddy storage or whether more sinister forces are at play.
This time it took just seven hours from the first explosion for the defence ministry to come forward and put its case.
Information was presented that guided the public very firmly away from military negligence towards the idea that this was sabotage.
Sabotage in the Ukrainian context is almost always a thinly veiled suggestion that Russia, either directly or through its rebel proxies, is responsible.