Ireland's housing problem prompts an activist movement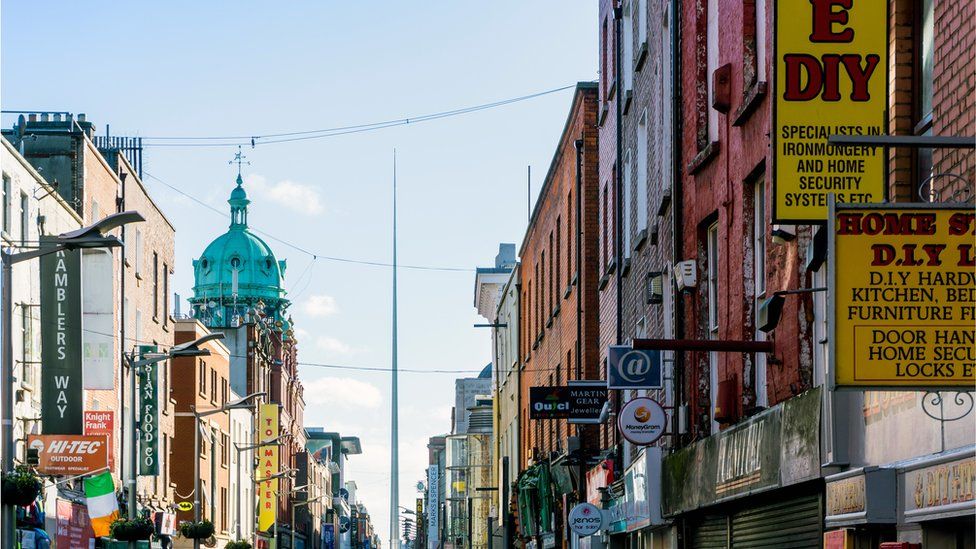 In Ireland's capital, there are frequent rallies highlighting problems in the country's housing sector.
Last month, thousands took to the streets for the 'Raise the Roof' demonstration in Dublin.
They were protesting against homelessness and housing issues across the country.
There are 1,367 families in homeless accommodation in Dublin alone, according to latest figures.
Some housing activists are taking more radical measures, occupying vacant buildings and locations in Dublin and Cork.
These are not the first of Ireland's ongoing protests on the housing situation, nor will they be the last.
In October, the Irish government lost a vote on a cross-party motion to declare housing and homelessness a national emergency.
According to homeless charity Focus Ireland, the number of homeless in Ireland has risen from 8,374 in September 2017 to 9,698 today.
Over the past month, a further 171 people were added to the homelessness figures for August.
The latest figures also reveal that 3,829 of the total number of homeless are children.
While the Irish government has committed to increasing social housing by 50,000 homes by 2021, Mike Allen, director of advocacy at Focus Ireland, said plans to tackle the crisis still rely too much on the private market as a long-term solution.
Stephen Falvey, student at UCC
A month after starting his first year in university, Stephen Falvey realised he couldn't afford to pay rent.
The 29-year-old returned to Ireland from England to start a course at University College Cork.
At first, he found somewhere to rent within his €450 (£400) per month budget - but it was a two-hour commute away.
He is not eligible for university grants, which meant he had to work full-time to pay for accommodation.
"My course runs in the day, so I was only able to work in the evenings," he said.
"I took up a restaurant job. I was working 40 to 45 hours a week to bring the money in.
'Slept rough at Christmas'
"The difficulty was that I was finishing at 2am, getting back to the house at 4am and then getting up again at 6am or 7am to get in for a morning lecture, spending the afternoons trying to get a few hours extra sleep in the library."
Stephen made the decision to give up his accommodation and sleep on his friends' couches.
When his friends went home at Christmas time, he slept on a bench or slept rough at Cork City's quays.
When the summer came Stephen bought a van to live in.
Today he has a more stable situation, sleeping on a couch in a shared house with nine other students. Instead of paying rent, he contributes to electricity bills where he can.
"You do adapt to it. You manage it," he said.
To some extent the housing crisis is an overhang from Ireland's recession.
Mr Allen said that government legislation needs to protect Irish homes from a "growing threat" posed by so-called vulture funds - a private equity fund that invests in debt considered to be very weak or in default.
"These international investment funds buy distressed properties to sell for a quick profit, and the government must clip the wings of these vultures," he said.
He adds that the main reason families are becoming homeless is that they are being evicted from their homes by private landlords due to properties being sold or repossessed.
High rent prices are another major contributor to the crisis.
In April to June 2018, the standardised national average rent increased by 7.6% to €1,094 (£968) per month, according to the Residential Tenancies Board. That is up from €1,017 (£900) in 2017.
The Raise the Roof for Change national protest coincided with the opposition's motion on the housing crisis in the Dáil ( Irish parliament).
The motion was tabled by the Solidarity-People Before Profit grouping and had the support of all parties outside the Irish government.
Richard Boyd Barrett, a Solidarity-People Before Profit TD, said that the success of the motion shows that "people power" is making a difference.
"The government are under pressure. They haven't been to date," he said.
"It's all about uniting people who are in emergency accommodation, students, people on housing lists or who can't afford housing."
Can the problem be solved?
The Irish Housing Department, however, said that its existing plans are already working.
According to the department, more than 4,700 homeless people have been placed in tenancies. It is working to increase this by the end of the year.
Its €6bn (£5.3bn) Building Ireland Action Plan also includes commitments to build 150,000 new homes in the next 20 years, accelerate social housing and improve the rental sector.
In the state's latest budget, Ireland's Finance Minister Paschal Donohue allocated an extra €30m (£26m) for homelessness services, €60m (£53m) extra in capital funding for additional emergency accommodation and €1.25bn (£1.11bn) for the delivery of 10,000 new social homes in 2019.
However, Siobhan O'Donoghue, from the activist organisation Uplift, said that despite government plans, there are still almost 10,000 people homeless in Ireland.
"There is a lot of rhetoric and there is a lot of PR, but there is none of the kind of political leadership to really push through and deliver on the promises," she said.