Viktoria Marinova: Arrest over Bulgarian journalist murder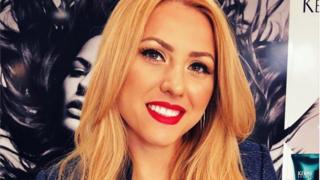 A man has been arrested in Germany in connection with the rape and murder of Bulgarian journalist Viktoria Marinova.
Bulgarian officials say a man named Severin Krasimirov has been detained at their request.
The country's Interior Minister, Mladen Marinov, said the suspect was a DNA match for evidence recovered at the crime scene.
Bulgarian authorities said there was no evidence to suggest the attack was linked to Ms Marinova's work.
She had recently hosted a TV programme in which two investigative journalists discussed alleged fraud involving EU funds and prominent businessmen and politicians.
However, chief prosecutor Sotir Tsatsarov said the attack seemed to have been a spontaneous sexual assault, adding that all possibilities were still being considered.
What do we know of the suspect?
Severin Krasimirov left Bulgaria for Germany on Sunday, the day after the rape and murder, Bulgarian newspaper 168 Chasa reports.
Bulgarian officials said he was known to police and was suspected of attacking Viktoria Marinova while she was jogging in a park on the bank of the River Danube in the northern city of Ruse.
Her body was found in the park on Saturday. Her mobile phone, keys, glasses, and some of her clothes were missing, prosecutors say. Some of her personal belongings were allegedly found in his flat.
He has been accused of rape and murder and will face extradition under a European arrest warrant.
German police said the 20-year-old man had been detained in Stade, near Hamburg. His mother is said to live in the town.
A man detained on Tuesday in Bulgaria was released without charge.
Who was Viktoria Marinova?
She was a presenter on a current affairs talk programme called Detector on the TVN channel, and her last show had covered alleged corruption involving EU funds.
The two investigative journalists on that programme, Attila Biro and Dimitar Stoyanov, were themselves arrested in September while looking into the case.
Those details led to widespread speculation that Ms Marinova's death might have been linked to her work as a journalist.
Suspicions remain
BBC Monitoring
This murder has shocked the country and reignited the debate about freedom of the media in Bulgaria.
Despite investigators downplaying – if not ruling out – the possibility of the crime being related to Ms Marinova's work, fellow journalists point out that there are deep suspicions about a political dimension. That is because of a "terrible" media atmosphere where the harassment of journalists is common.
Journalist Albena Bachvarova writes in ClubZ.bg that despite calls from Europe for a swift investigation, it remains to be seen if Brussels will maintain pressure on Bulgaria – or whether it will go back on focusing on bigger problems, like Hungary and Poland.
She was the third high-profile journalist to be murdered in the EU in the past year:
On Monday, hundreds of mourners in Bulgaria held vigils for Ms Marinova.
But Bulgaria's Prime Minister Boyko Borissov defended his country's record, insisting that journalists were free to report in Bulgaria.
"In three days, I've read monstrous things about Bulgaria - none of them are true," he said of the global reporting on Ms Marinova's murder.
Bulgaria ranks 111 out of 180 countries on the Press Freedom Index – the lowest of any EU member in the Press Freedom Index.