Disclosures Tribunal: 'McCabe is a genuine person'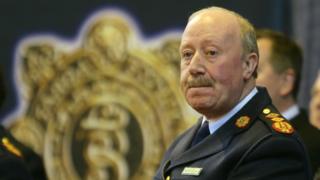 A former head of the Irish police force told a member of Irish parliament that a police whistleblower sexually abused a member of his own family, a tribunal has found.
The allegation was untrue and the finding is a serious blow to the reputation of former Garda Commissioner, Martin Callinan.
The tribunal is investigating whether there was a smear campaign at the highest levels of the Gardaí.
Mr Callinan resigned in 2014.
John McGuinness, a Fianna Fáil TD and chairman of the Dáil's (Irish parliament) Public Accounts Committee, gave evidence to the tribunal that Mr Callinan told him in a public car park that whistleblower Sgt Maurice McCabe had sexually abused a member of his own family.
Mr Callinan denied making the remarks, however Mr Justice Charleton has found against him on the evidence of four individuals.
'Frontal attack'
John McGuinness TD, John Deasy TD, Comptroller & Auditor General Seamus McCarthy and RTÉ broadcaster Philip Boucher-Hayes all gave evidence that Mr Callinan had told them that Sgt McCabe was not to be believed or trusted and had sexual offences allegations against him.
Mr McGuinness had also said that Mr Callinan told him that the sergeant had abused members of his own family.
Mr Charleton had found that all four were telling the truth, adding that former commissioner Callinan's state of emotion left him in a position where only a "frontal attack would head off what he saw as an undermining of standards of duty and loyalty to which he had devoted his career".
The Disclosures Tribunal, chaired by Supreme Court Judge Mr Justice Peter Charleton, was set up early in 2017.
Who blew the whistle?
Sergeant Maurice McCabe came to public attention after he claimed that senior police officers had inappropriately wiped the penalty points from the driving licences of often well-connected offenders.
The tribunal found that Sgt McCabe was a genuine person who operated in what he believed was the national interest.
Judge Charleton said Sgt McCabe had done the state a considerable service by bringing policing problems to the attention of the public, and that he remains an officer of exemplary character.
Were there others?
The judge is highly critical of another Garda whistle-blower, Superintendent David Taylor.
Mr Taylor claimed he, as a former head of the Garda press office, had briefed against Sgt McCabe with the knowledge of Mr Callinan and former Garda Commissioner Nóirín O'Sullivan.
Judge Charleton finds that Supt Taylor's credibility was undermined by his own sense of bitterness.
He said the Supt Taylor was not acting under orders from former commissioner Callinan, adding that the truth is that press office head completely understated his own involvement in a campaign of calumny - or slander - against Sgt McCabe.
What are the other findings?
The judge found there is no evidence that Ms O'Sullivan, who succeeded Mr Callinan as commissioner, suggested that Sgt McCabe's integrity be challenged at a prior commission of enquiry.
It also found that she had no knowledge of the car park meeting.
Ms O'Sullivan resigned amid the Garda whistleblower scandal in 2016.
The tribunal is also highly critical of Tusla, Ireland's child support agency, for its handling of a false rape claim made against Sgt Maurice McCabe.
The allegation was made by the daughter of a disgruntled colleague of Sgt McCabe.
Judge Charleton said the agency gave the allegation an afterlife due to "astounding inefficiency and inertia".
Revelations about the whistleblower saga nearly led to general elections twice last year.
It contributed to the former Taoiseach Enda Kenny standing down and the resignation of two justice ministers, Frances Fitzgerald and Alan Shatter.