Ireland's Minister for Communications Denis Naughten resigns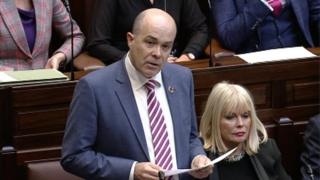 Ireland's minister for communications, climate action and the environment has resigned after a controversy over the National Broadband Plan.
Denis Naughten made a short statement in the Dail on Thursday before leaving the chamber.
The Roscommon indepedent TD, said that after meeting the taoiseach on Tuesday night, it was clear Leo Varadkar did not have confidence in him.
"The outcome is more about opinion polls that telecom poles", he said.
Mr Naughten has come under opposition pressure because of his contact with an American businessman who is leading a consortium that had won the contract for supplying broadband to those parts of the country that have yet to receive it.
He says over a million people are waiting "for this essential service".
Political instability
In his resignation statement Mr Naughten said that during his meeting with the taoiseach he had offered to hand over the National Broadband Plan to a junior minister.
But he said Mr Varadkar refused to consider that and asked him to consider his position.
Opposition parties say that while they were concerned they had not called for his resignation.
They have called on the taoiseach to make a statement on the matter.
The resignation adds to political instability at a time when Fine Gael, the party which governs with the support of Independents, and Fianna Fail, the main opposition party, are due to discuss their confidence and supply arrangement which lasted for three budgets, the final one of which was on Tuesday.