How would a hard Brexit affect the Republic of Ireland?
By Shane Harrison
BBC NI Dublin correspondent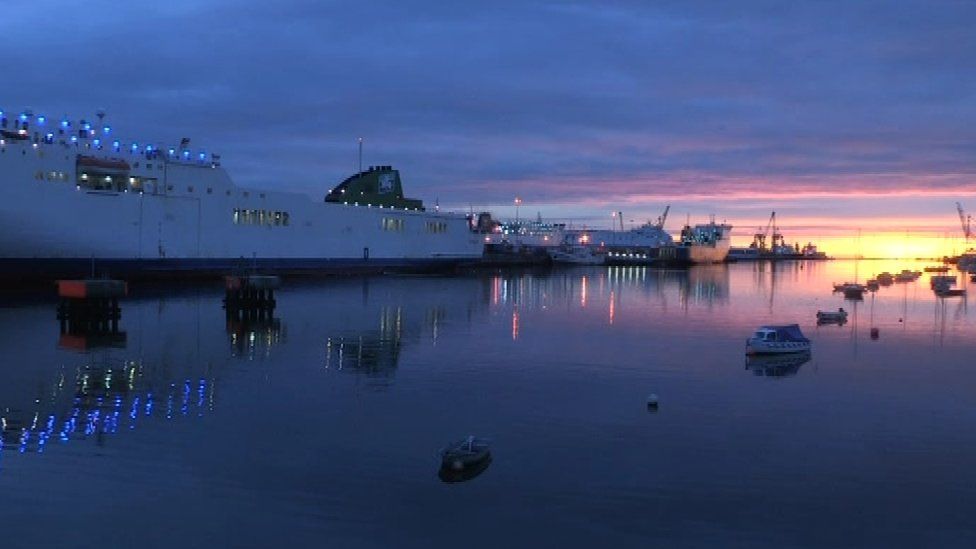 Ninety minutes before dawn and several ships are making their way to Dublin Port.
The biggest by far is the Delphine, known locally as a Brexit-buster.
It sails to and from Dublin and Zeebrugge in Belgium and Rotterdam in the Netherlands, avoiding the need to stop in the UK.
If all the parking lanes on the boat were laid end to end, it would stretch to almost five miles. It can accommodate 600 lorries and is almost twice the size of other ferries using the port.
Eamonn O'Reilly, the chief executive of Dublin Port Company, said shippers need certainty.
"'Just-in-time' is sometimes mistaken for as fast as possible," Mr O'Reilly said.
"But 'just-in-time' is more about reliability and I think we will see a considerable volume shifting from the UK land bridge onto direct routes to continental Europe."
Mr O'Reilly is overseeing construction work on the docks site.
Taking the UK at its word that it is leaving the single market and customs union, he said he has to plan for a hard Brexit in March 2019, rather than pray that there will be some delaying deal.
"At the moment, we have 1.4m units of freight moving through Dublin Port - containers and trailers," he said.
"200,000 of them come from places like the far-east and have to clear customs.
"What we're looking at is 200,000 overnight becoming one million in the event of a hard Brexit,"
It is predicted that the Republic of Ireland would be badly affected by a hard Brexit.
The International Monetary Fund (IMF) forecasts the country's economic growth would take a 4% hit, while Dublin-based think tank, the ESRI, says it would cost households about €1,400 a year.
The Irish government has already announced plans for an extra 1,000 customs and veterinary staff to work at ports and airports as well as training people in sectors likely to be badly affected.
It is organising a series of road shows around the country with the involvement of state agencies with the theme 'Getting Ireland Brexit-Ready'.
Threats but opportunities
The event held in Cork looked at the problems facing the agri-business, with Michael Creed, the Minister for Agriculture, saying things will not be the same again because 40% of the country's agri-food exports go to the UK, 80,000 tonnes of cheddar cheese and over half of Irish beef exports.
"The trading relationship, even if we were able to sustain the volumes, would be in a different context. Unfortunately it would mean additional costs and friction to that trade," Mr Creed said.
But Brexit provides not just threats to Ireland. There are also opportunities.
The Industrial Development Authority (IDA) - the agency tasked with attracting foreign companies to Ireland - said 30 firms have re-located parts of their operation from the UK to the Republic at least partly because of Brexit.
One of those is Fragomen Ireland.
It specialises in moving highly-skilled workers around the world for client companies.
Its managing director, Bill Foster, said the UK leaving the EU and Irish long-term sustainable economic growth were key.
"It's a common-law jurisdiction," he said.
"It has an incredibly skilled workforce. For us, those were all the advantages of moving into the Irish market."
While Ireland will seek to gain whatever is available from a hard Brexit, it is not something anyone in politics here wants.
What is wanted is as close an economic relationship as possible allowing the ships and ferries to continue to sail into Dublin and other entry points with a minimum of disruption.