Arda Turan: Turkish footballer charged for pop star 'attack'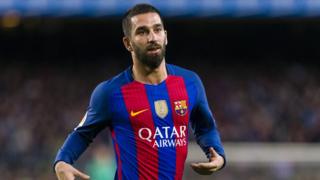 Turkish football star Arda Turan has been charged over an alleged brawl with a prominent Turkish singer.
Prosecutors have asked for the 31-year-old to be jailed for 12.5 years over the incident, which left pop star Berkay Sahin with a broken nose.
The brawl allegedly broke out at an Istanbul nightclub and led to a later confrontation involving a gun.
The midfielder currently plays for Istanbul Basaksehir, where he is on loan from Barcelona.
Reports say the singer, who goes by the name Berkay, was with his wife Ozlem Ada Sahin at an upmarket nightclub in Istanbul when the altercation allegedly broke out with the midfield footballer.
Ms Sahin told the Haberturk newspaper that the footballer had made suggestive remarks to her, and then launched an attack on her husband - who was later taken to a hospital to have surgery on his broken nose.
Turan then allegedly showed up there with a gun, begging for forgiveness and asked to be shot if the singer believed the harassment allegations were true.
He also said he did not know Ms Sahin was his wife.
Reports suggest the gun allegedly went off during the incident.
Video allegedly from the hospital, which appears to show a gun being thrown down on a table, and another clip showing the aftermath outside the nightclub have since emerged in Turkish media.
The footballer was questioned by police last week.
On his Instagram account shortly after he said he would like to "set the record straight" and admitted reacting disproportionately, but denied that the altercation was as the media had reported.
Berkay's lawyer petitioned officials on Monday for the footballer's arrest.
"I have full confidence in justice. Arda Turan will serve his sentence," he said in his latest statement, the Daily Sabah newspaper reports.
The singer, who has a number of tour dates lined up, has made his Instagram account private since the scandal broke.
On Monday the Istanbul Chief Public Prosecutor's Office indicted both men.
Berkay was charged in relation to the incident for "insults" and Turan for sexual harassment, unlicensed possession of weapons, deliberately endangering general security and causing intentional injury.
The Barcelona player joined Basaksehir on a two-and-a-half-season loan deal in January having struggled for first-team opportunities at Barcelona.
Before that he played for Atletico Madrid and Galatasaray and was capped for his national side 100 times.
He retired from international football in 2017 after another off-the-field incident, when he allegedly verbally and physically assaulted a sports journalist on a flight.
Earlier this year he was given a 16-game ban and fined 39,000 Turkish lira (£5,000) by Turkish football authorities for pushing an assistant referee.