Ryanair crew 'spent night on airport floor' says union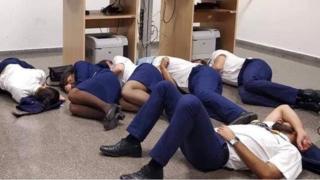 Four Ryanair crews spent the night on the floor of a Spanish airport office without food or drink, according to a cabin crew union.
Twenty-four crew members were stranded in Malaga airport after their Porto-bound flights were diverted.
The SNPVAC union, which represents Portuguese airline crews, says the above photo shows the conditions that crew "had no choice" but to stay in.
Ryanair claims the picture is "staged" and says "no crew slept on the floor".
"Due to storms in Porto a number of flights diverted to Malaga," Ryanair said in a statement. "As this was a Spanish national holiday, hotels were fully booked.
"The crew spent a short period of time in the crew room before being moved to a VIP lounge, and returned to Porto the next day."
Ryanair also confirmed that none of the crew members who stayed in Malaga operated on the Porto flights.
'No food or drink'
The union disagrees with Ryanair's summary of events, claiming that crew members were placed in a room between 01:30 and 06:00 "without minimum rest facilities".
The union says that crew members were left "without access to food, drinks and even a place to sit down, as there were only 8 seats available for the [24-person] crew.
"They had no other choice, as the photo illustrates, than to attempt to rest on the room's floor."
The union confirms that the staff were moved to a VIP lounge at 06:00, but says crew members were "still with no access to food or drinks".
"It is the legal responsibility of the airline to provide suitable accommodation, namely a hotel room," says the union, "so that crew can perform their rest under the national and European legal requirements, in order to be able to operate the following duty safely.
"SNPVAC will produce a formal complaint to all the relevant civil aviation authorities and we expect an urgent and robust intervention so that events like this won't happen again."
Ryanair has not commented on the union's claims that staff were left without food or drink.
The airline came under fire after the photo was shared on social media, where it has been upvoted more than 68,000 times on Reddit.
It was first shared by Jim Atkinson on Twitter, who criticised Ryanair for not providing adequate accommodation for staff.
Ryanair Chief Operations Officer Peter Bellew responded to the claim by confirming that hotels were not available, as they were all booked.
By BBC UGC & Social News team