High-profile fugitive who faked death 'arrested in France'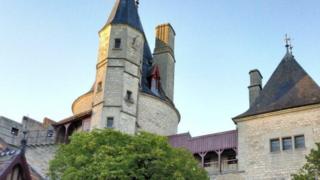 A high-profile fugitive from Ukraine who faked his death and lived a lavish lifestyle in France has been arrested, officials say.
The man - suspected of international fraud and money laundering, and wanted in Ukraine - was held near Dijon.
Europol says more than €4.6m (£4m; $5.3m) in assets - including a castle, a vintage car and works of art - were seized in the raid in eastern France.
Ukrainian investigators have named the suspect as "Malinovsky".
In a statement, Europol said in January the French gendarmerie had launched an investigation into alleged suspicious transactions surrounding the purchase of a castle by a company from Luxembourg.
The EU's law enforcement agency said the firm's "ultimate beneficial owner was a Ukrainian citizen".
Realising the international dimension of the case, the gendarmerie later requested assistance from Europol.
It was later established that the man was on the wanted list in Ukraine on suspicion of "large-scale corruption".
"He had however managed to evade justice by producing forged death certificates," Europol said.
Europol added that the fugitive was not only alive, but was "enjoying a lavish lifestyle in France".
The man was arrested earlier this month, together with three alleged accomplices, Europol said.
Officials in Luxembourg have so far not commented.