Crimea attack: College shooting is 'globalisation' result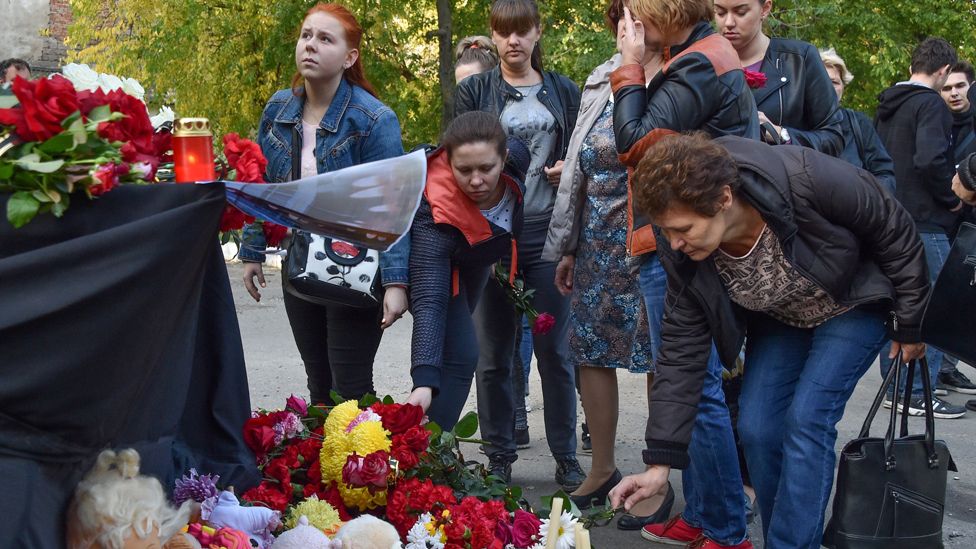 The deadly gun and bomb attack on a college in Crimea "appears to be a result of globalisation", Russian President Vladimir Putin has said.
"On social media, on the internet, we see the creation of entire communities. Everything started with the tragic events in schools in the US," he said.
Fifteen students and five teachers were killed in Wednesday's attack on the technical college in Kerch.
Officials named the killer as Vladislav Roslyakov, 18, who took his own life.
He was a fourth-year student at the college in the city in Crimea - the southern peninsula annexed by Russia from Ukraine in 2014.
On Wednesday, a huge nail-bomb blast ripped through the college's cafeteria, before the killer stormed through the building, shooting people at close range with a pump-action hunting rifle.
Russian Health Minister Veronika Skvortsova said the explosion from a home-made device had showered people with shrapnel.
"Some victims' internal organs were ruptured, we're finding washers and ballbearings in their livers, intestines, blood vessels," she said.
"Limbs have been amputated - people have lost feet and shins," she said.
Some of the critically injured were being transferred to hospitals as far away as Moscow.
The authorities in Crimea have declared three days of mourning. A prayer service was held for the victims at a makeshift shrine near the college.
The rampage is the deadliest attack to have taken place in Crimea since the Russian annexation.
That Russian intervention - condemned by many Western powers - marked the start of a conflict pitting Russian-backed rebels in eastern Ukraine against Ukrainian government forces.
What happened at the college?
The perpetrator is said to have run from room to room as he fired. Minutes earlier he had left a rucksack containing the nail-bomb in the cafeteria on the ground floor and detonated it remotely, Russian Channel One TV reported.
Photos later emerged in Russian media purportedly showing his body in the college library.
The TV report described a scene of devastation and mass panic after the blast. It said doors and windows were shattered in the entrance hall and on the first floor, above the cafeteria. Some students leapt out of the building from a height of 5m (16ft 5in).
Investigators later said they had found a second explosive device among the gunman's possessions and that it had been disarmed. He was also reported to have several packs of bullets and home-made petrol bombs.
BBC Russian spoke to witnesses, including Igor Zakharevsky. "I was at the epicentre of the first explosion, at the entrance, near the buffet," he said.
"I was in complete shock and one of my classmates started pulling me away. Then I heard several shots at intervals of two or three seconds. After a while there was another explosion."
Marina, an 18-year-old student at the college, said there was "a massive explosion, the windows began to rattle and everyone started screaming".
"We bolted out of the classroom and ran. There was complete pandemonium in the corridor," she said. "I saw a girl lying near the wall in an unnatural position, others lying on the floor covered in blood. Shots were being fired every five or six seconds.
The incident was first described as a "terrorist act", but Russia's investigative committee later reclassified it as "mass murder".
By Steve Rosenberg, BBC News, Moscow
Until now, if you had told people in Crimea there had been a mass school shooting, most would have thought you were talking about the United States. Now all that has changed.
The shooting spree in the Kerch Polytechnic has left the peninsula, annexed by Russia from Ukraine in 2014, in shock. But should it come as such a surprise?
Today's Russian papers on the massacre at Kerch Polytechnic:

"The deadliest shooting in modern Russian history."

"Death enters the gates of Crimea."

"Black Sea of Tears"

"We are doomed to see a repetition."

Click for a full press review. pic.twitter.com/9gE5HFXt33

— Steve Rosenberg (@BBCSteveR) October 18, 2018
There have been five attacks in schools in Russia this year where a number of children were injured.
In Kerch, questions are already being asked: how did Vladislav Roslyakov manage to obtain a licence for a hunting weapon? And how was he able to launch such a deadly attack on his college?
What do we know about the alleged gunman?
His precise motives remain unclear. But there are suggestions the fourth-year student had developed a hostile attitude to the college.
Russia's RBC TV interviewed a friend who said Roslyakov "hated the technical school very much" and had vowed "revenge" on his teachers.
It has emerged that he obtained a gun licence when he was 17. His parents are divorced.
Classmates said Roslyakov was very reserved and had long ago stopped using social networks.
College teacher Olga Mikhailichenko said he was "a hard-working student, very quiet". A neighbour was quoted as saying "he had no friends".
The college prepares students for engineering jobs and is reportedly well-equipped. But some students spoke of lax security there.