Malta sets stage for abortion debate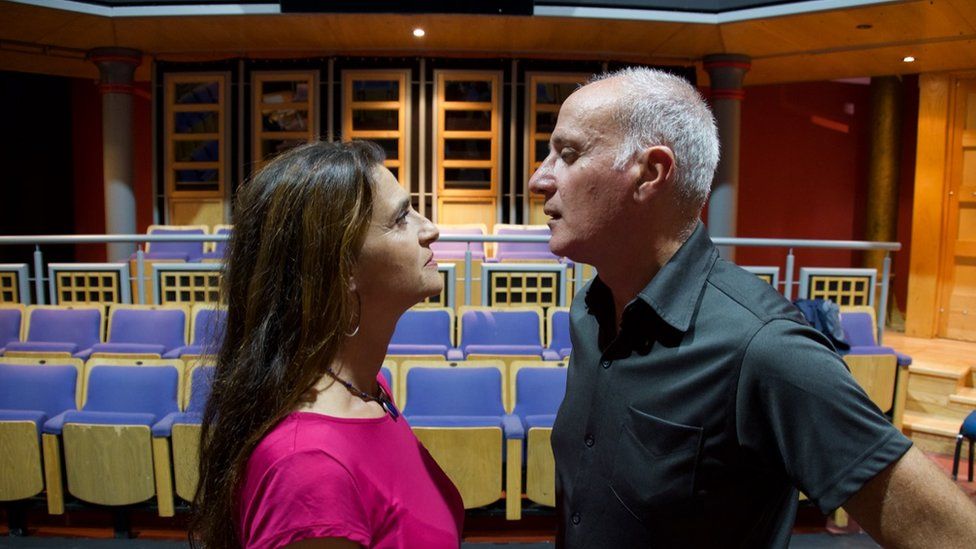 Malta is the only country in the EU where abortion remains illegal, and is still a taboo subject for many. But now, a ground-breaking play featuring local voices from both sides of the debate is trying to change that.
It is estimated that hundreds of women leave Malta each year to have an abortion overseas, usually in the UK or Italy.
Others illegally buy abortion pills online.
Their stories inspired Maltese journalist Herman Grech to write and direct a play called De-terminated.
Its script is based on the real-life experiences of abortion of seven people, both women and men, and it premieres in Valletta on Friday night.
"Abortion is not only a taboo here, there's almost a fear of using the 'A' word," said Grech, a prominent Maltese journalist and occasional contributor to the BBC.
"When you know hundreds of women are resorting to dangerous methods to get a termination then it becomes a subject that needs to be tackled."
One character has had her profession changed in the play, because her real-life counterpart says she would lose her job if the Maltese authorities discovered she had an abortion abroad.
Another is based on a man who was sexually abused as a child, became promiscuous, later coerced his pregnant girlfriend into terminating their child, then found God, and now campaigns against abortion.
Grech says he didn't write the play to campaign for either side.
"In Malta there are only ever two sides to choose from... everything's yes or no, there are no shades of grey," he says.
"Stop shouting at each other, and maybe we can actually have a debate about this."
A Maltese woman's abortion experience in UK
"The abortion hit on the train, after I left the clinic. I literally thought I was bleeding to death. I passed out from the pain on the train, alone."
A Maltese woman in her mid-30s, Roberta became pregnant about 10 years ago when her boyfriend's condom split.
She flew to a clinic in Birmingham, UK, where she paid €1,000 (£880) for pills to induce a medical abortion.
"When I got off the train and to my hotel, I thought I was dying. I thought something had gone wrong," says Roberta - not her real name.
"The hotel room looked like the scene of a murder. Blood on everything, projectile vomiting. Again, I'm completely on my own."
When she returned to Malta, she bled for 40 days. Her "very religious" gynaecologist told her she had "committed a crime" and should be reported.
Malta has a "double effect" law, allowing essential treatment of a sick mother with side effects that may harm the foetus - such as cancer therapy. But the foetus cannot be terminated just to save the mother.
Deliberately terminating a pregnancy carries a prison sentence of up to three years.
The morning-after pill only became legally available in Malta in December 2016 after a bitter battle that saw death threats made against those calling for the change.
Lara Dimitrijevic is founder and director of the Women's Rights Foundation (WRF), which is calling for the decriminalisation of abortion in Malta.
"It's a breach of the fundamental human rights based on gender discrimination, because it's targeting women and girls," she says.
"This is holding Maltese society back," Ms Dimitrijevic said. "It's holding women back specifically."
The Church maintains a great deal of influence in a country that teaches abstinence as its only sexual education, she complains, adding that politicians are afraid to endorse abortion.
She hopes the De-terminated play will be a "softer way" to discuss the issue.
Women's lives ' safeguarded by law'
On the other side of the debate is Klaus Vella Bardon, deputy chairman of the LifeNetwork Foundation Malta.
Malta should not even debate the issue, he argues, because that would be "a step towards making it socially acceptable".
And he does not believe that the Maltese people are in favour - saying recent liberal reforms were "imposed from the top down" without necessarily being publicly popular, with the exception of divorce which was decided by referendum.
"It's codswallop to say a sick pregnant woman is put at risk in Malta. Their lives are safeguarded in Maltese law," he says pointing to the "double effect" rules.
"It's the woman and the family's choice. Some women have accepted no treatment or to risk having it later, because they want the child to have a shot at life."
When it comes to rape, Mr Vella Bardon says that while it is a "horrible crime, why should the child be sacrificed?"
"As a society we're against the death penalty, even for those who commit gratuitous murders, but why do we then accept killing a child?"
He also has tickets for De-terminated, which he expects to be a "civil presentation of both points of view".
Despite Grech's efforts to provoke debate through staging a play, he does not expect to see abortion introduced within his lifetime.
"Women go to the UK for abortions and come back bleeding. There should be help available for them here," he said.
"Despite our strict laws, abortions still happen. People should be discussing this issue. Let's try to understand each other."
Additional reporting by Diana Cacciottolo.