Chilli challenge spices up Georgian presidential vote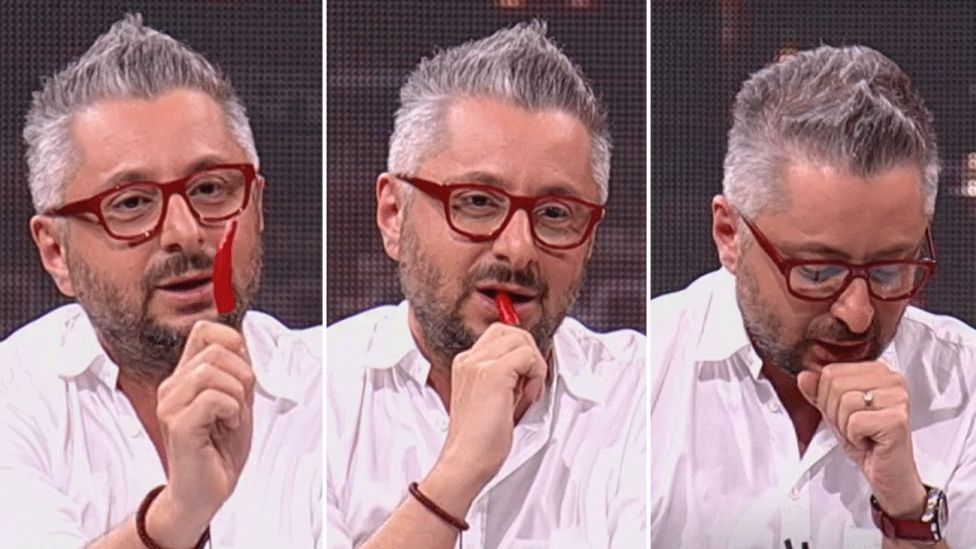 It takes guts to eat raw chilli. But in Georgia it has become a matter of political conviction. Opponents of one of the top presidential candidates, Salome Zurabishvili, have signed up for a "chilli pepper challenge" on social media to protest her candidacy in elections on Sunday.
They find her so distasteful they would rather eat hot chillies than see her elected as president.
"No to Salome Zurabishvili," says one Facebook user as he struggles to chew on a hot red chilli while filming himself.
He was the man who initiated the challenge on live TV, with the provocative words: "If this traitor becomes president, the same catastrophe awaits our country."
What sparked the protest?
Born in France to a family of Georgian emigres, Salome Zurabishvili is a career diplomat, one of 25 candidates standing in the October 28 elections.
She is running as an independent but her candidacy has been backed by the governing Georgian Dream party.
Its leader, the powerful billionaire and former Prime Minister Bidzina Ivanishvili, is seen as the ultimate decision-maker in Georgia.
"As a feminist, I would love to support her," says 22-year old male student Nodar Rukhadze at a recent anti-Russia protest. "But I can't as it's against my country's interest."
Nodar is one of many Georgians who object to remarks Salome Zurabishvili made in August, when the country was marking the 10th anniversary of its war with Russia.
But in Georgia, which lost the war and with it control of more than 20% of its internationally recognised territory, the issue of who started the conflict is contentious, says political analyst Kornely Kakachia from the Georgian Institute of Politics.
"She is not at a scientific conference, she is in politics, and in politics people have prejudices, their own ideologies and convictions. When you go against this current, a lot of people consider her as a pro-Russian candidate. Even if she does not have direct links with Russia, she is saying what Moscow wants to hear."
In Georgia it is very common for politicians to accuse their opponents of being pro-Kremlin.
Even campaign posters for her main opposition rival, the openly pro-Western United National Movement candidate Grigol Vashadze, have been vandalised with three letters of Russia's FSB intelligence service.
"That's the result of Russian foreign policy in Georgia in the past 25 years," says Mr Kakachia.
"Everybody demonises Russia, everything bad is associated with Russia, everybody knows that this is something that Georgians will react to."
The Georgian public have been shaken by recent allegations of high-level corruption and interference in the justice system.
Mr Ivanishvili from Georgian Dream denied the allegations in a recent televised interview and accused the Rustavi-2 TV channel of spreading lies and disinformation.
He said it was his idea to endorse Salome Zurabishvili as an independent candidate, because having a non-partisan candidate would help strengthen state institutions.
Presidential powers are now limited in Georgia, but in this election the outcome matters, because it will be seen as a vote of confidence in the current government ahead of parliamentary elections in 2020.