France proposes congestion charges in big cities to tackle pollution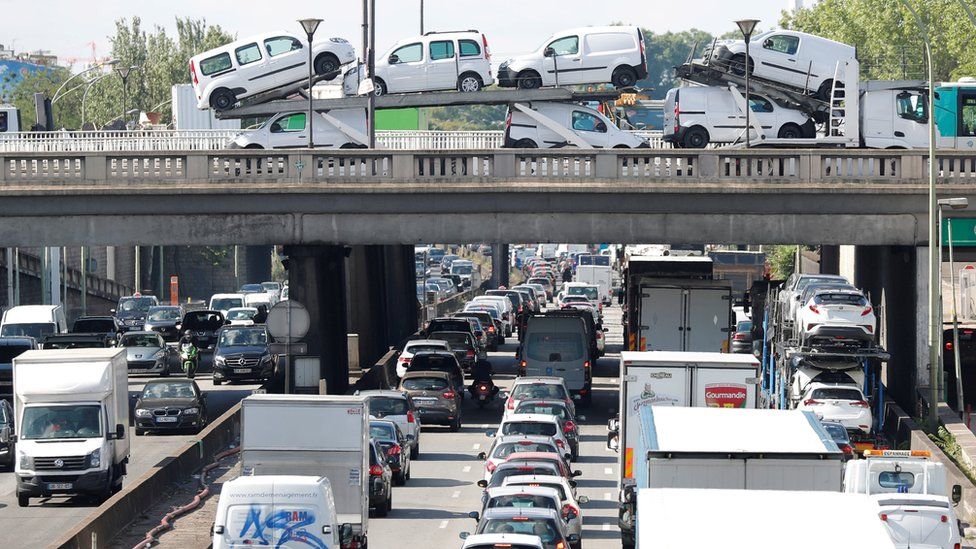 France could be introducing congestion charges for vehicles in cities for the first time.
Car drivers would have to pay a €2.50 (£2.20) toll in cities with more than 100,000 people, and €5 in bigger cities like Marseille, Nice and Lyon.
The proposed measure, outlined in a draft bill to "limit car traffic and fight against pollution", has faced opposition from some local authorities.
The "urban toll", which could charge larger vehicles like trucks as much as €20, would allow local authorities to decide on when and where the charge would apply.
Congestion charges currently exist in the UK, Milan, Stockholm and Singapore.
Other measures of the draft bill include mandating bike owners to carry a proof of ownership, much like car registration.
This would tackle bike theft, the bill suggests, as a "certificate of ownership" would need to be issued to new owners in the case of selling or gifting a bike.
The bill also plans to establish new low-emission areas around some 20 cities by 2020 to restrict or ban highly polluting vehicles.
Championed by government ministers, the legislation also looks to make train stations build secure bike parking and promote carpooling with dedicated lanes.
Motorist groups have long opposed the idea of a congestion charge in cities, suggesting that some people cannot do without a car.
Local authorities have also proved less enthusiastic in embracing a congestion charge than the state.
The mayor of Paris, Anne Hidalgo, has repeatedly opposed a congestion charge in the capital. She appeared to soften her stance on Wednesday, suggesting she would be more willing to consider it if it was not discriminatory towards low-income households.
Cities like Toulouse and Marseille have also expressed blanket opposition, while Lyon has said it would not consider charging residents, but charging visitors instead.