Former Fine Gael TD Seymour Crawford dies at 74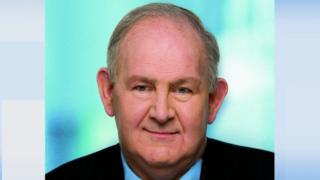 Seymour Crawford, an Ulster Protestant and Presbyterian former member of the Dáil (Irish parliament), has died.
The former Fine Gael politician, who was 74, represented the Irish border constituency of Cavan-Monaghan between 1992 and 2011.
He died in County Cavan on Saturday.
His "unique perspective" as a Protestant in Irish politics was "crucial" during the Northern Ireland peace process, said Taoiseach (Irish prime minister) Leo Varadkar.
"I had the privilege of working alongside Seymour during his final term in the Dáil," added the Fine Gael leader.
"I know that I wasn't the only member of the current government to listen and learn from him."
Irish President Michael D Higgins said the County Monaghan man was an "early voice for cross-border cooperation".
"Seymour was a staunch representative of Monaghan values, of its culture and traditions," added Mr Higgins.
'Greatest compliment'
Other high-profile politicians, including Mairead McGuinness, the vice-president of the European Parliament, and Irish Health Minister Simon Harris, paid tribute to Mr Crawford.
The Irish government's Business Minister Heather Humphreys, who won the Dáil seat vacated by Mr Crawford on his retirement in 2011, described him as "not just a mentor but a very close friend".
"Seymour never lost an election and that is perhaps the greatest compliment any politician can receive," she added.
"Today is a very sad day for the Fine Gael party in Cavan-Monaghan and in particular for the many people who worked so hard with Seymour down through the years during his various campaigns."
Mr Crawford was a farmer and a former vice-president of the Irish Farmers' Association, which represents the country's agricultural sector.
He brought the "practical approach he had learned as a farmer" into politics, according to former taoiseach John Bruton.
"Coming from a border constituency and a Presbyterian background, he helped to bridge gaps in mutual understanding that grew up between the communities on this island."