Tom Peters: Ex garda officer blinded by IRA County Laois blast dies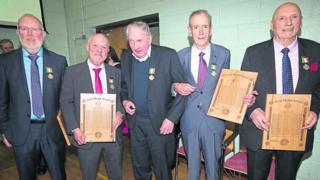 A former Irish police officer who was awarded a medal for bravery after he was blinded by an IRA bomb has died.
Tom Peters lost his sight and hearing when he and four colleagues were caught in a blast in County Laois in 1976.
They had been responding to reports that the IRA was assembling a bomb at a farmhouse for an assassination attempt on the politician, Oliver J Flanagan.
The former detective died in Portlaoise, County Laois, on Saturday after a short illness, aged 82.
An Garda Síochána said they were saddened by Mr Peters' death.
'Sacrifice not forgotten'
Irish Justice Minister, Charlie Flanagan, the son of Oliver J Flanagan, tweeted a tribute to Mr Peters.
"Very sorry to learn of the sad passing of courageous Garda Tom Peters," he wrote.
Michael Clerkin, one of the four officers who was with Mr Peters as they entered the house in Garryhinch in October 1976, was killed by the explosion.
All of the men received the Gold Scott medal for bravery in December last year.
Mr Peters' "sacrifice will never be forgotten" by his family, former colleagues and friends, said the Garda Representative Association (GRA).