#PasDeVague: French teachers break silence on 'abuse' by students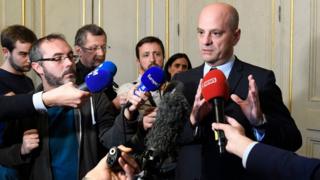 French teachers have revealed stories of bullying by students after a video showed a teen pointing a fake gun at his teacher in a Paris suburb.
Hundreds on Twitter ironically used #PasDeVague ("Don't Make Waves") to highlight their alleged abuse.
Most said they had received no support after reporting threats, insults, harassment and violence.
The 15-year-old said to be involved in the fake gun incident has been charged with aggravated violence.
The move came after his teacher complained about the incident at the high school in Créteil.
The boy said it was "a joke" and that he did not know he was being filmed by one of his classmates, who shared the video on Snapchat.
'Reality on the ground'
Described in French media as the #MeToo movement of the nation's public education sector, teachers have unleashed a wave of thousands of tweets.
"I was spat on and threatened to be 'beaten up' after school," tweeted a Latin teacher of 10 years. When she pushed for sanctions, the principal agreed to suspend the student for three days but allegedly accused the teacher of being repressive.
Another teacher spoke of a colleague who received death threats signed by an entire class of students. "The support? Nought."
"I would have liked to been supported when a student hit me in a hallway of my school some years ago," tweeted another (in French). The girl was not expelled, and "I was told I shouldn't feel so strongly about it. This is the reality on the ground."
One teacher recalled having lots of enthusiasm and ideas for her first teaching job as a 23 year old. "During the first recess, you're crying in the toilets because you're not ready for... the blows and insults that rain between them and towards me."
One person on Twitter made clear that #PasDeVague does not highlight a hatred of students but rather "anger, sometimes despair" at school management for its inability to deal with social problems.
"We live with regular verbal abuse, but we're forced to continue teaching," Jenny Lartaud, a French teacher at an Alsace college, told news agency AFP.
'Brushed under the carpet'
French President Emmanuel Macron also took to Twitter over the weekend to say "threatening a teacher is unacceptable". He said he had asked his government to "take all measures" to ensure people doing this were punished and banned from schools.
"We will restore order," Minister of Education Jean-Michel Blanquer told Le Parisien on Sunday.
He expressed his shock at the fake gun incident, and said he had urged principals take disciplinary action whenever necessary.
"For too long, it was considered that [the number of disciplinary actions] reflected the quality of the institution, with the risk of brushing events under the carpet."
One teacher however accused the education minister of lying "shamefully", telling the Huffington Post the politician "did nothing" to stop violence in a Créteil school he was in charge of in 2008.
Jeremy Destenave shared letters allegedly sent to Mr Blanquer at the time, to expose the verbal and physical abuse suffered by teachers on a daily basis and ask for protection.
"For some, these years leave traces and scars," Mr Destenave tweeted. "Others have even stopped being part of the profession. It is for them that I have spoken and I am still angry."