Norway's Crown Princess Mette-Marit reveals rare lung disease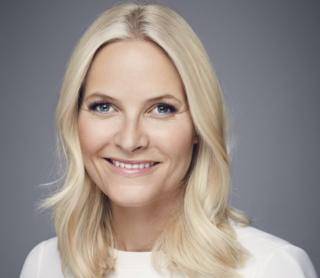 Norway's crown princess is suffering from a rare chronic lung disease, the country's royal family has confirmed.
Princess Mette-Marit, who married Crown Prince Haakon in 2001, said she had been diagnosed with an unusual form of fibrosis.
The condition causes a person's lungs to become scarred, and makes breathing increasingly difficult.
Norway's future queen said she would probably have to restrict her royal duties at some points in the future.
"For a number of years, I have had health challenges on a regular basis, and now we know more about what these are," the princess said in a statement.
"Although such a diagnosis will limit my life at times, I'm glad that the disease has been discovered so early. My goal is still to work and participate in the official programme as much as possible," she added.
The crown princess, who has three children, met Norway's future king at a music festival in the 1990s.
In January this year, the princess confirmed that she was suffering from vertigo, telling Norwegian radio station P3: "I turned my head quickly, and it was like the whole world began to move.
"I began to sweat and felt nauseous - I thought I'd started early menopause."
Royal doctor Professor Kristian Bjøro said Princess Mette-Marit had been experiencing gradual lung changes for several years, and that her illness was not likely to be lifestyle-based.
She is being treated at Oslo University Hospital, as well as by overseas experts.
"The crown princess will have to undergo further investigation in the future and also treatment trials," Prof Bjøro said.
The fact the diagnosis was made at an early stage will give the princess a more positive prognosis, a palace statement said.
What's her condition?
The term pulmonary fibrosis covers several different lung conditions, all of which cause a build-up of scar tissue.
According to the British Lung Foundation, it's often unclear what caused the condition.
It can be linked to autoimmune diseases such as rheumatoid arthritis, where the body's own immune system starts attacking it.
Lifestyle factors such as allergies are responsible for some cases, as well as drug side-effects.
Fibrosis usually affects people of around 70-75 years old. At 45, the princess is considered young to be suffering from it.
Symptoms can include:
Shortness of breath, especially during exertion (for example when climbing stairs)
A dry cough that won't go away
Fatigue
Weight loss and loss of appetite
Pain in muscles or joints
Rounded or swollen finger-tips
Scarring from fibrosis is not reversible, and at present there is no cure. Drugs can help slow the progress of the disease, however, and portable oxygen devices may be used to ease the symptoms.