Hesse election: Merkel facing double trouble in German vote
By Jenny Hill
BBC Berlin correspondent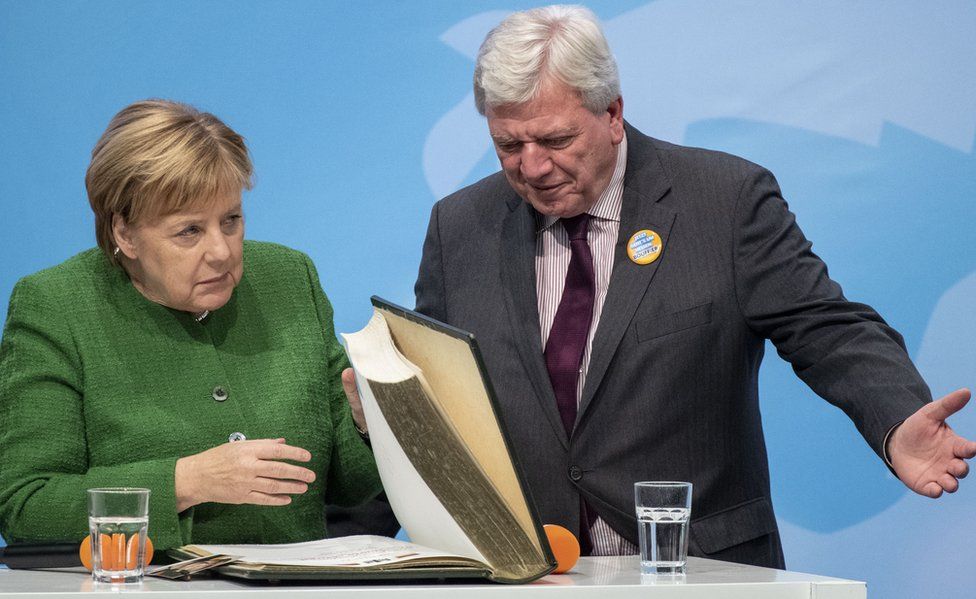 Rarely is a regional election so closely scrutinised. But then rarely does so much hang upon the outcome of a state vote.
Even before the first voters set foot in Hesse's polling stations, it is widely accepted that what happens in Hesse will have consequences in Berlin - for the German government and perhaps even for the German leader herself.
Angela Merkel's party is expected to suffer humiliating losses on Sunday. The CDU leads a coalition government with the Green party in Hesse.
If the party does as badly as polls suggest, that alliance will no longer be viable and the state prime minister, Merkel loyalist Volker Bouffier, who has ruled the region since 2010, may be out of a job.
Germany's ruling parties braced for losses
Hesse is wealthy. The state is home to Germany's financial centre Frankfurt am Main, and the unemployment rate is among the lowest in Germany.
But dissatisfaction over the cost and availability of housing and concerns over education have dominated the election campaign. So has the issue of immigration.
Polls ahead of the vote suggest that the results will most likely mirror what's happening at federal level: big losses for the centre-right CDU and centre-left SPD, gains for the far-right AfD and the Green party.
And a tricky scramble to form a regional coalition government which could see the conservatives removed from power.
As commentators gleefully note, it could mean anything from a "Jamaica" coalition - named after the black of the CDU, the Greens and the yellow FDP - to a left-wing alliance between the SPD, Greens and Left Party.
Mrs Merkel has appeared four times on the campaign trail in Hesse.
On Thursday she looked rather tired as she smiled and waved at supporters. Even she acknowledges that her party and her coalition partners, the SPD, are in trouble. The traditional "Volksparteien" or people's parties were "in danger", she said recently.
Her own party is watching closely.
Mrs Merkel has never fully recovered from a poor performance at the last general election.
Her coalition has veered from crisis to crisis, with spats between Mrs Merkel and her interior minister over migration and the botched handling of a scandal involving her secret service.
The party recently ousted Mrs Merkel's parliamentary group leader and ally in what was widely seen as an attack on her leadership.
So, if the CDU does badly in Hesse, all eyes will turn to the December party conference where Mrs Merkel must stand for re-election as party leader. The party holds such elections every two years.
She has always emphasised that it would be impossible for her to continue as chancellor, were she to lose that role.
Why Merkel's rivals may hold back
Reports of her imminent downfall in the party may be somewhat exaggerated.
Her current challengers - a 26-year-old law student and a businessman who recently joined the CDU - present no serious problem.
It is true that if the party flops in Hesse, there may be more heavyweight challenges. But those most often viewed as Merkel successors may decide to bide their time.
Three potential candidates include ambitious Health Minister Jens Spahn; the Prime Minister of North Rhine-Westphalia, Armin Laschet; and the woman seen as Merkel's anointed heir, Annegret Kramp-Karrenbauer.
But don't underestimate the CDU's continuing respect for Mrs Merkel or rather, its lack of confidence in other contenders. In 2016, when even the most loyal MPs were despairing over a voter backlash in response to the migrant crisis, the party re-elected her with 89.5% of the vote.
Will Merkel's coalition crumble?
What might do for Mrs Merkel is her dependence on the SPD.
The centre-left party's support is disintegrating.
Many of its members and voters didn't want another coalition with Mrs Merkel's conservatives. They blame the alliance for the party's terrible showing in the polls.
After humiliating losses in the Bavarian regional election two weeks ago, SPD party leader Andrea Nahles immediately said that the poor performance of the coalition was to blame.
There is widespread speculation that if Hesse goes badly for it, the SPD will pull out of the alliance and bring down Mrs Merkel's government.
That, in all probability, would result in another general election.
Germany's battle-scarred leader is an extraordinary political survivor.
But at that point her party, her country, perhaps even Mrs Merkel herself, may have had enough.