Ireland's 'poet president' will need to find fitting words
By Shane Harrison
BBC NI Dublin correspondent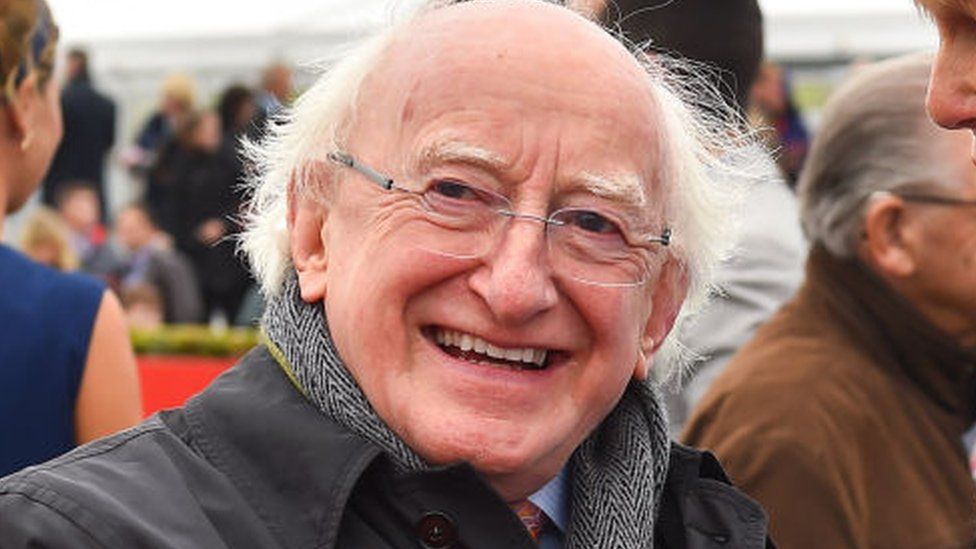 The highlight of President Higgins' first term in office was the first state visit to the United Kingdom in 2014.
Amid the pomp and poetry-quoted it highlighted the transformation in British-Irish relations - a reconciliation built on the foundations of the Northern Ireland peace process.
But now with Brexit straining those relations and the centenary of Irish independence looming at a time of changing demographics in Northern Ireland it is inevitable that Ireland's first citizen will have to devote more time and attention to north-south and east-west matters - if only symbolically.
Like the Queen, the role of Irish president is mostly symbolic and doesn't tend to be involved in daily politics.
During the state visit he spoke of the two nations in Irish as "ar scáth a chéile" - living in each other's shadow and shelter.
And in his 2018 campaign literature he said that the "Presidency can play a crucial role in sustaining positive relationships between our peoples at a time of political uncertainty".
It is likely that as the state commemorates its centenary he will emphasise the importance of respect, honesty and inclusion.
"The coming years will require thought and understanding as we reflect on some of the most challenging and difficult periods in our history," he wrote.
At home he is likely to endorse the values of equality, inclusivity and a society of strong and stable communities.
Michael D Higgins, a politician, poet and academic, was elected President of Ireland in 2011 at a time when the country was at a low ebb after an EU-IMF bailout resulting from a property-related banking crash.
Since then the country's fortunes have dramatically reversed and with it its self-confidence.
President Higgins has alluded to that during the campaign.
In the next seven years the only certainty is uncertainty where British-Irish relations are concerned.
Michael D Higgins will have to find fitting words and gestures as the two states meander in new and different directions.