Rome protests: Anger over rubbish and potholed roads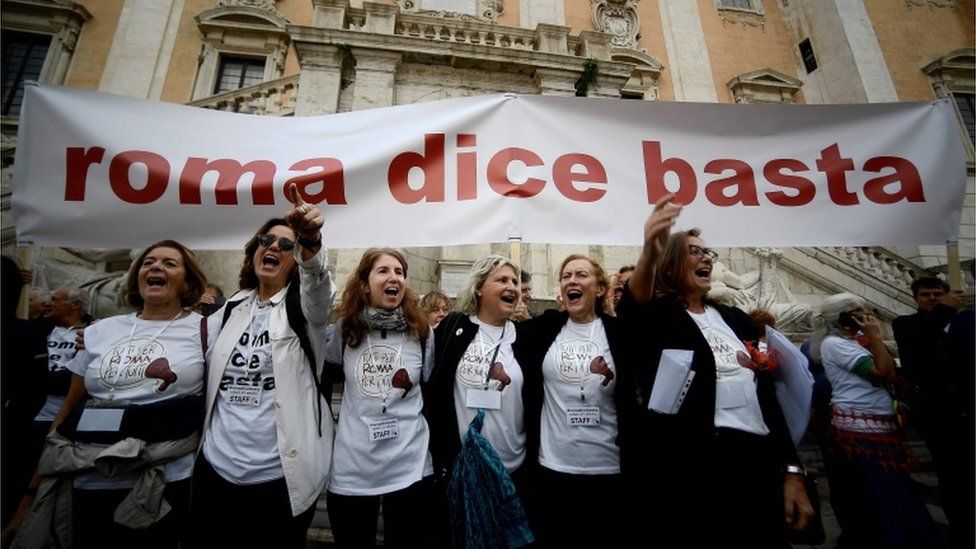 Thousands of people have taken to the streets of Rome to protest at the Italian capital's run-down state.
Demonstrators gathered outside the city hall to denounce Mayor Virginia Raggi for failing to tackle issues including uncollected rubbish and potholed roads.
Ms Raggi took control of Rome in 2016 for the Five Star Movement (M5S), which formed a national coalition government earlier this year.
Her popularity has fallen after failing to address the indebted city's issues.
On Saturday, demonstrators gathered waving the plastic orange netting that authorities use to cordon off areas of damaged roads, dangerous pavements and fallen trees.
Other problems that the city faces include rats and wild boar roaming the streets and poor transport services - some 20 buses have reportedly caught fire this year alone.
Many were Russian fans of CSKA Moscow, visiting for their Champions League match against Roma.
Rome's first female mayor says she is making progress tackling the city's problems, and needs more time to finish the job.
But critics say things are getting worse, not better.
The hashtag #romadicebasta, or Rome says enough in English, has been trending after a number of shocking incidents in the Eternal City.
Videos posted online have shown a number of wild boar running through the streets and feasting on rubbish.
Ms Raggi took office after corruption scandals tainted the public image of traditional parties.
But she herself is now standing trial for allegedly abusing her power over an appointment in her administration.
A verdict is due on 10 November, and Ms Raggi says she will resign if convicted - which could lead to fresh elections.