Germany election: Further blow for Merkel in Hesse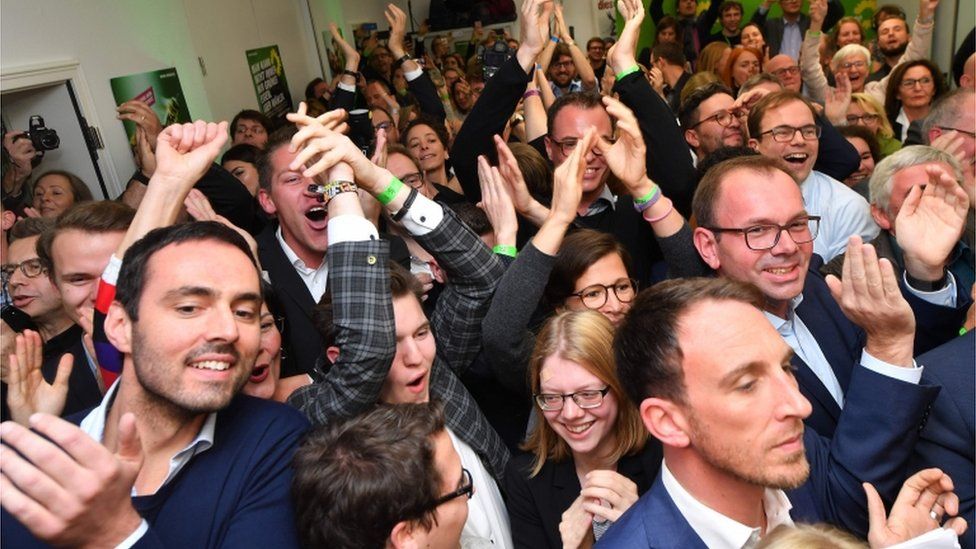 Both the parties in German Chancellor Angela Merkel's governing coalition have suffered heavy losses in a regional election, early results show.
Her centre-right CDU party and the centre-left SPD were each 10% down on the previous election in Hesse state.
SPD leader Andrea Nahles said the federal government's poor performance had "significantly" contributed to the disappointing result.
She told reporters the state of the government was "unacceptable".
The federal government must find a "reasonable way of working", after what looks to be the SPD's worst result in the western state since 1946.
The CDU must agree to a "clear, binding roadmap" ahead of a scheduled coalition review next year. "Then we'll be able to check whether this government is still the right place for us," she said.
Both the CDU and the SPD have seen their support slip nationally in recent months, and the coalition has already come close to collapse.
"The message to the parties ruling in Berlin is people want fewer disputes and more focus on the important issues," state premier and CDU member Volker Bouffier told supporters.
Meanwhile the left-leaning Greens surged into third place in the Hesse regional government, with about 19.5%.
And the far-right AfD will enter the regional assembly for the first time, having secured about 12% of the vote.
Christian Democratic Union (CDU) - 27.9% (down from 38.3%)
Social Democratic Party (SPD) - 19.9% (down from 30.7%)
Green Party - 19.5% (up from 11.1%)
Alternative für Deutschland (AfD) - 12%
Free Democrats (FDP) - 7.5% (up from 5%)
Parties like the AfD and the Greens have grown in national support following Germany's 2017 general election, as support for the major centre parties has waned.
And with the CDU's party conference scheduled for December, Mrs Merkel could lose her leadership re-election bid.
She has said previously she could not continue as chancellor - a position she has held for 13 years - were she to lose that role.
A big blow for Angela Merkel
By Jenny Hill, BBC's Berlin correspondent
It's been a bruising evening for Angela Merkel.
Her party has lost significant support in the wealthy state of Hesse, home to the financial centre of Frankfurt.
The result is widely interpreted not as a rejection of local politicians but rather a protest against Mrs Merkel's unhappy coalition government in Berlin.
The losses are undoubtedly ammunition for critics in her party who want rid of Mrs Merkel. But she may face a more immediate problem.
Her Social Democrat coalition partners are in electoral freefall, haemorrhaging support at federal level.
The SPD's poor performance tonight in Hesse follows a drubbing in Bavaria two weeks ago. Many in the party blame the controversial coalition with Mrs Merkel's conservatives. The SPD's leaders may decide to pull out of the alliance and bring down her fragile government.
Germans are calling this a 'schicksalswahl', or vote of destiny. It may yet seal the fate of this country's government - and perhaps even its leader.