Angela Merkel to quit as CDU party leader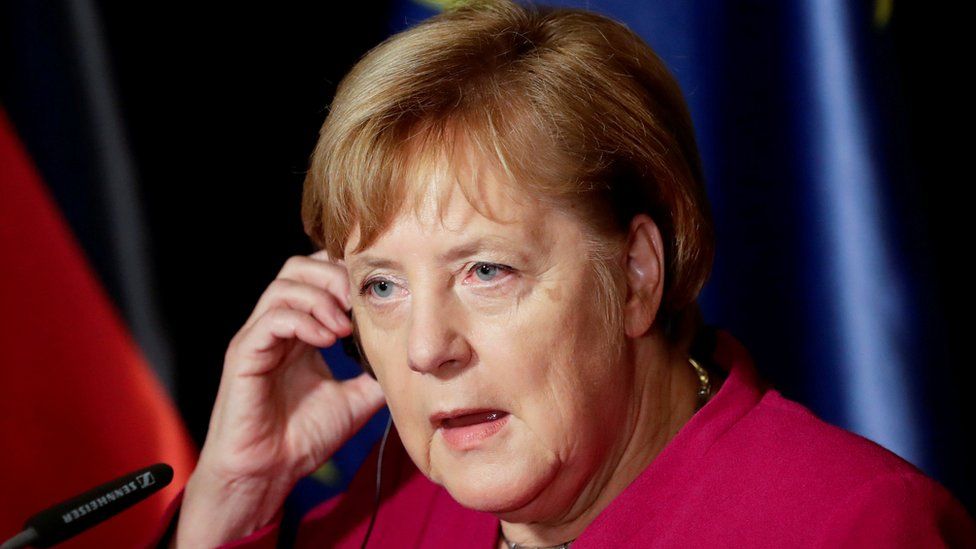 German Chancellor Angela Merkel has confirmed she will not run for re-election as its chairwoman in December.
Her decision comes after her party suffered heavy losses in regional elections that threatened the stability of the governing coalition.
Mrs Merkel has been chair of the CDU since 2000, becoming one of its longest-serving chairpersons.
She has led Germany as chancellor since 2005 - and wants to stay in that post.
However, news of Mrs Merkel decision could spark a race within the CDU to find her successor as chancellor.
The position is usually determined in Germany's federal elections, the next of which are provisionally scheduled for 2021.
What has Angela Merkel said?
However, she said that she would like to remain in the post of Germany's chancellor until 2021, local media report.
This would be in contrast to Mrs Merkel's previous position, in which she has linked the party leadership role to the chancellorship - meaning that she would only remain chancellor if she was party leader.
One attendee at Mrs Merkel's announcement told AFP she said this would be "her last term". The source said Mrs Merkel "was genuinely sad and not at all bitter" - and that she received a standing ovation.
Analysis: Beginning of the end?
Jenny Hill, BBC Berlin correspondent
Predicting the political demise of Angela Merkel has become almost a national sport. Today Germany's battle-scarred leader has herself formally marked what might be termed the beginning of the end.
Mrs Merkel has always said that she could only be chancellor if she also held the role of party leader. Her willingness now to give up the latter is intended to silence critics in her party but it also reflects her dwindling grip on power.
Much depends on her successor as party leader. If it's a loyalist, Germany might witness a smooth transition to a new chancellor, possibly allowing Mrs Merkel to see out her term.
But the vultures are circling. Already an old rival, Friedrich Merz has announced his candidacy. If one of her political adversaries prevails as party leader, Mrs Merkel's chancellorship becomes uncomfortable and possibly untenable.
Why has Merkel lost support?
Mrs Merkel, the country's first female chancellor, rose to power on the image of a prudent and pragmatic leader.
It was, however, her open-door refugee policy that sparked public concern and helped fuel parties like the far-right Alternative for Germany (AfD).
The Greens have also grown in national support.
Mrs Merkel's migration policy has exposed the fragility of her divided coalition government - and even within her own political group.
Sexual assaults by migrants in Cologne and Islamist attacks in Germany all dented the chancellor's popularity.
Mrs Merkel has stopped short of admitting making a mistake, but has said "if I could, I would turn back the clock many years" to prepare Germany better for the influx of arrivals.
Who will replace her as chairperson?
Among the potential candidates are ambitious Health Minister Jens Spahn; the Prime Minister of North Rhine-Westphalia, Armin Laschet; and the woman seen as Mrs Merkel's anointed heir, Annegret Kramp-Karrenbauer.
Following news of Mrs Merkel's decision on Monday, former CDU parliamentary group leader Friedrich Merz indicated that he wanted to join the race for party leadership, Reuters news agency reports.