World War One: 'Fallen' art hangs in Dublin cathedral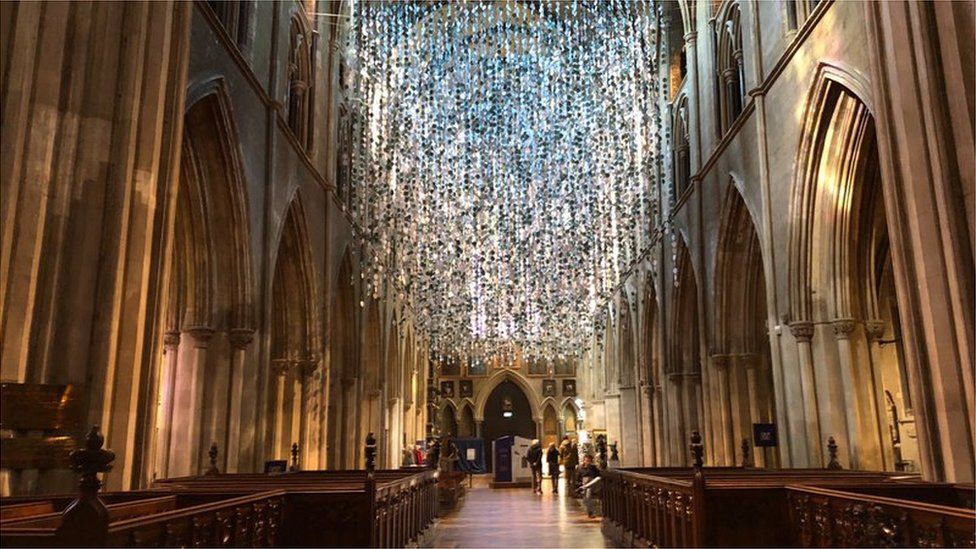 A new art installation, to mark the centenary of the end of World War One, is to be unveiled in St Patrick's Cathedral in Dublin.
The 36,000 leaf-shaped messages hang from the cathedral's ceiling like a weeping willow.
They remember the Irish men and women who died in World War One.
"Fallen" marks the end of a project that began in 2014 to mark the 100th anniversary of the War.
Visitors have been given the chance to write a message to a relative or loved one lost through any conflict and leave it at the cathedral's Tree of Remembrance.
Artist Ciara Ní Cheallacháin said the response from the public had been overwhelming.
"We did not anticipate this reaction," she said.
While the installation has been created to commemorate World War One, "the message represents both historic and modern conflicts," she added.
The result was more than 220,000 messages written by people from all over the world.
Dean of St Patrick's, Dr William Morton explained that while every message is personal to the writer "when they are brought together they reflect a common desire for a more peaceful world and a desire to find a better way of living".
The official launch of Fallen is on Thursday at St Patrick's Cathedral at 19:30 local time.
The installation will be on view until 1 December.