Brexit: What are the UK and EU doing to prepare for no deal?
By Reality Check team
BBC News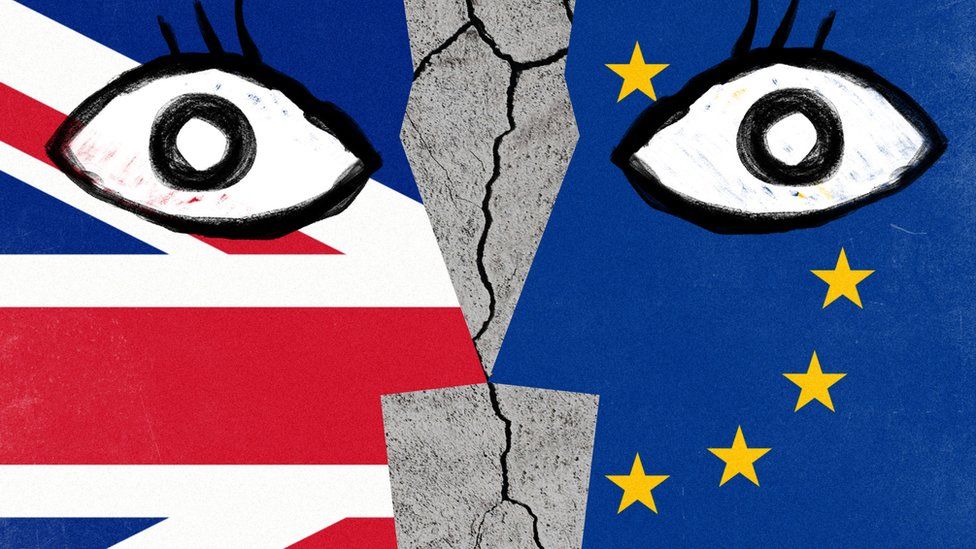 The UK has been in a transition period with the EU since last January, during which rules and trade have stayed the same. But all of this will come to an end on 1 January 2021.
With just a few weeks left for the UK and the EU to negotiate a trade agreement, both sides are now talking about the prospect of a no-deal outcome. If there's no trade agreement in place, they will have to adjust quickly to doing things very differently.
So how are both sides preparing?
For the first six months from 1 January, the British government will bring in only minimal checks on goods coming in to the UK, but the EU will have full border checks on goods coming into the EU from the UK straight away.
The UK government has warned that a reasonable worst-case scenario could see queues of 7,000 trucks clogging up the roads around Dover and the Channel Tunnel.
The UK government has two contingency plans for this: Operation Brock and Operation Fennel.
Operation Brock is a traffic management plan, which it is hoped will prevent more than 10,000 lorries a day from clogging up roads in Kent.
Under the scheme, drivers of very large lorries will need to get a special permit - a Kent Access Permit - before they enter the county, and permits will only be issued if they have completed the correct paperwork for exporting goods.
Other traffic will be kept flowing around them, in what is known as a contraflow system. Highways England is trialling the moveable road barrier, which makes the contraflow system possible, on the M20 over four nights from 11 December.
If there are more than 2,000 lorries queued up, the government has made plans for several temporary lorry parks - it bought a 27-acre site in Ashford in Kent. There is also a plan called Operation Fennel in which as many as 7,000 heavy goods vehicles (HGVs) could be diverted to the disused Manston airfield, near Ramsgate.
This is part of the government's plans for building facilities away from ports.
If further capacity is needed, a "last resort" would be to turn the 10-mile M26 motorway into a temporary lorry park.
The UK government has also set up the Border Operations Centre to co-ordinate the response to any further disruption.
Preventing food shortages
Queuing at ports is not the only problem for lorry drivers.
If no further steps are taken, UK lorry drivers would need to apply for documents called ECMT permits to be allowed to enter EU countries. The European Commission has warned that there are not enough of these permits available, which would mean not enough UK lorries being able to travel to the EU to pick up goods to bring back to the UK.
The European Commission said this could result in serious disruptions, "potentially even threatening public order".
To prevent this, it proposed allowing UK lorries and buses into the EU for six months without special permits, as long as EU drivers are also allowed into the UK.
The proposals would also allow regular bus services that pick up and drop off passengers on either side of the border between Northern Ireland and the Republic of Ireland to continue to do so.
The UK has not been clear yet on whether it plans to continue to allow EU operators to enter the country.
A similar proposal is on the table for aviation. In the event of no deal, the UK would no longer be a member of the European Common Aviation Area, which allows British airlines to fly to destinations in the EU, and vice versa.
The European Commission is proposing a six month regulation to allow flights to continue until a new agreement is in place, but it would require the UK government to offer the same to operators from EU countries. The UK has not yet responded to the proposal.
Preventing medicine shortages
The UK government has told pharmaceutical companies to stockpile and plan alternative supply routes in case of border problems. It has also arranged extra freight capacity for pharmaceutical companies should they need it.
In a memo, seen by the BBC in June, pharmaceutical companies warned the government that some stockpiles of medicines have been "used up entirely" by the coronavirus pandemic and said these could not be replenished in time for the UK's exit from the EU.
The head of the Association of the British Pharmaceutical Industry warned that not having any sort of deal would cause "increased complexity, duplication and cost" in the middle of a pandemic. The government insisted, however, that "robust contingency plans are in place".
For the coronavirus vaccine, the government says there are contingency plans for making sure the Pfizer Covid-19 vaccine made in Belgium can be shipped to the UK if border problems arise. These include alternative sea routes and the use of freight or even military aircraft.
Allowing fishing to continue
The European Commission has also proposed extending the deadline to reach an agreement on fishing until the end of December 2021.
This would allow European fishing vessels to continue fishing in British waters and vice-versa for another year, or until an agreement is reached.
But a Downing Street spokesman said the UK "would never accept arrangements and access to UK fishing waters which are incompatible with our status as an independent coastal state".
As things stand, if nothing is agreed then non-UK boats will not be allowed to fish in UK waters from January.
But without a deal, the UK fishing industry would find its extensive exports to EU countries being hit by tariffs (import taxes) and regulatory hurdles.
The French government has said it would hand out compensation to trawlers if they were not able to fish in UK waters.
Reporting by Anthony Reuben, Tamara Kovacevic, Oliver Barnes & Nicholas Barrett.
Related Internet Links
The BBC is not responsible for the content of external sites.