Greece resumes flights to Macedonia after 12-year pause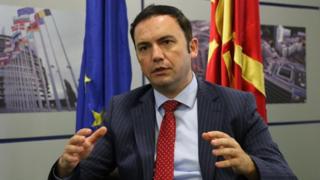 The first direct commercial flight between Greece and Macedonia in 12 years took off on Thursday evening.
The Olympic Air flight departed the Greek capital Athens at 18:40 local time (16:40 GMT) for Macedonia's capital Skopje.
The launch of the twice-weekly service follows a deal between the two nations to end a 27-year name dispute.
Macedonia's deputy prime minister - who was in Greece for talks - was on board the historic flight.
Bujar Osmani had travelled to Athens in the wake of the agreement, in which Macedonia said it would formally change its name to the Republic of North Macedonia to assuage Greek fears about claims on its northern region with the same name.
In a series of tweets on Thursday, Mr Osmani said that Greece had become "our greatest ally" and that the "re-establishment of the air corridor" was a symbol of improved relations.
Skopje and Athens had a direct air route from 2003 to 2006. But the move by Macedonia's previous government to rename Skopje's airport after Alexander the Great angered Greece.
Both countries have laid claim to the ancient hero's legacy in the past.
Macedonia's new left-wing government then rebranded it as Skopje International Airport in February as a goodwill gesture, paving the way for Thursday's historic flight.
Macedonia has had nearly three decades of frosty relations with its southern neighbour, following its declaration of independence and adoption of the name Macedonia after the break-up of the former Yugoslavia.
Athens agreed to end objections to its neighbour's Nato and European Union membership bids after the name agreement in June.
In October, Macedonia's parliament narrowly voted to start the necessary constitutional process to change its name.