Kristallnacht anniversary: France warns of steep rise in anti-Semitism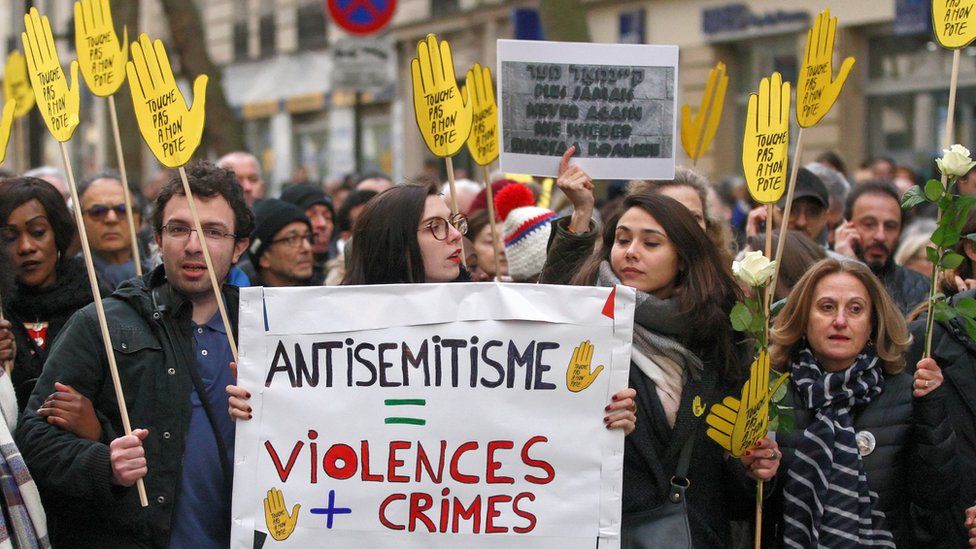 On the 80th anniversary of the Nazi Kristallnacht attack on Germany's Jews, French Prime Minister Édouard Philippe has revealed a 69% increase in anti-Semitic incidents this year.
"We are a very far cry from ridding ourselves of anti-Semitism," he said, calling on France not to remain indifferent to a "relentless" rise.
The 1938 night of broken glass produced an orgy of violence against Jews.
German Chancellor Angela Merkel said she lacked the words to describe it.
In a speech in Berlin's Rykestrasse synagogue, she said the pogrom night of 9 November led to the Holocaust, and yet anti-Semitism still flourished in public and online.
"We have sadly almost become accustomed to the fact that every synagogue, Jewish school, kindergarten, restaurant and cemetery needs to be either guarded by police or given special protection," she said.
Both the chancellor and President Frank-Walter Steinmeier described Kristallnacht as a "rupture" in German civilisation.
The head of the Central Council of Jews, Josef Schuster, accused Germany's far-right AfD party of stoking incitement. Every other week a synagogue or mosque was daubed with hate speech, he said.
In Austria, where at least 30 people died on Kristallnacht, President Alexander Van der Bellen said history had to be seen as an example of "where the politics of scapegoating, incitement and exclusion can lead".
The French prime minister's message came less than a fortnight after the worst attack on Jews in US history, when a gunman murdered 11 worshippers at the Tree of Life synagogue in Pittsburgh.
Mr Philippe wrote on Facebook that he had just learned that anti-Semitic incidents had gone up by 69% in the first nine months of 2018 alone, despite a fall in the previous two years.
After a record high in 2015, there was a 58% fall the following year and a continued 7% drop in 2017.
France has Europe's biggest Jewish community and Jews have seen a wave of violent attacks, by jihadists as well as in the poorer urban suburbs.
Mr Philippe detailed plans for a network of investigators and magistrates dedicated to the fight against such "heinous acts" and said a national team would be on permanent standby to intervene in schools in support of any teacher confronted by anti-Semitism.
His government always put action ahead of the kind of fear and silence that had recently been documented by teachers under the hashtag "Pas de Vague" (Don't make waves), he said.
What happened on Kristallnacht
On 9-10 November 1938, a series of co-ordinated attacks were carried out on Jewish and Jewish-owned property and businesses
91 people died and 30,000 more were arrested
1,400 synagogues and Jewish centres were torched and 7,500 Jewish business demolished