Lion cub found in Lamborghini by Paris police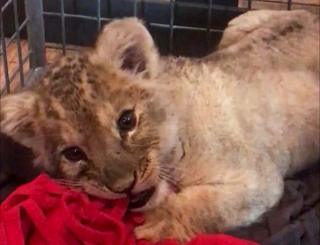 Police officers patrolling Paris's Champs-Élysées received reports of a lion cub in a luxury car.
On stopping the green Lamborghini, officers discovered the driver taking pictures with the animal.
The 33-year-old man reportedly insisted it was "just a cat", but was arrested.
The female cub, said to be named "Putin" and about two and a half months old, has been taken to an animal shelter run by the NGO "30 Millions d'Amis".
Last month another cub was discovered in an apartment in the Paris suburbs.