The Haunting Soldier sculpture vandalised in Dublin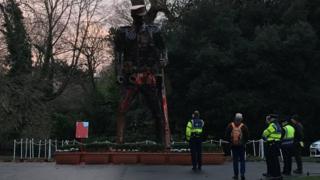 The World War One sculpture 'The Haunting Soldier' has been vandalised with red paint.
It has been on display in St Stephen's Green in Dublin since 5 November to coincide with commemorations marking the ending of the war.
The six-metre high installation represents a soldier returned from war, battle weary and forlorn.
The soldier was made in Dorset in England from scrap metal, including horse shoes, spanners and car jacks.
The sculpture was designed to evoke the fragility and suffering of those who survived the war and who returned home to an uncertain and difficult future.
It was due to be on display in St Stephen's Green until 26 November and attracted huge interest since it was installed.
Gardaí (Irish police) are investigating the incident which happened at around 02:00 local time.