Greek cleaner gets 10 years for forging school record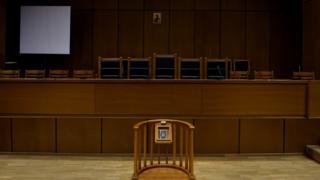 Greece's Supreme Court is to review a court ruling that saw a cleaning lady sentenced to 10 years in jail for exaggerating her primary school record, reports say.
The 53-year-old, who had worked in a nursery for 15 years, was found to have altered a certificate to show she had completed six years of primary school when in fact she had done only five.
A regional court then sentenced her on charges of defrauding the public.
The case has caused uproar in Greece.
"This decision is not simply inhuman. It is another very indicative sign of permanent pathogens in the criminal justice system," the Hellenic League for Human Rights said in a statement.
A senior prosecutor for the Supreme Court is to look at the regional court's legal reasoning next week, judicial sources told Reuters.
The discrepancy in the unnamed woman's educational record was discovered during a review in 2014.
In the past it was not unusual for Greek schoolchildren to be forced out of education by poverty, especially in rural areas.