Daniel O'Donnell warns fans of a WhatsApp impersonator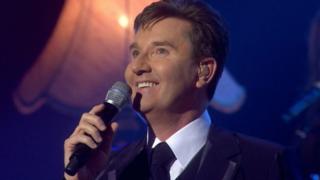 Daniel O'Donnell has warned his fans that a fraudster has been impersonating him on messaging app WhatsApp in a bid to extort money from them.
Writing in his fan magazine Daniel, the County Donegal singer told his fans to watch out for bogus requests for charity donations.
"Please be aware, this is not Daniel," said Mr O'Donnell.
His management company said the issue has been "nipped in the bud" but it continues to monitor the situation.
KCP Management, which represents Mr O'Donnell, said that "to the best of our knowledge, no one was conned".
A spokesperson added: "The impersonator was trying to cheat fans out of money pretending it was for charities related to Daniel.
"We immediately contacted all fan club members warning them of this scan. In addition we published a warning in the Daniel O'Donnell fan club magazine."
Mr O'Donnell said that he "never messages fans on WhatsApp" and that he never uses Facebook messenger to contact fans.
"Anyone who gets a message from this rogue Daniel needs to report it immediately through WhatsApp - as there is an option to do so - to block this person," said Mr O'Donnell.
The country music star has previously had to warn fans about a fake Daniel O'Donnell Facebook page.
He told fans last August in a post on his official fan page to report any friend requests.
"Hello friends. It has come to our attention that some of our fans have been receiving friend requests from a false Daniel O'Donnell profile that looks exactly like this official page," it said.
"This is a fake profile and if you receive a friend request, please report it and delete it immediately."