GAA star Eoin 'Bomber' Liston sparks alert on plane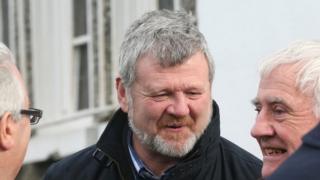 A Gaelic football star's nickname caused an alert on a flight after cabin crew mistook it for a potential bomb threat.
Eoin "Bomber" Liston earned his nickname when his three goals helped Kerry demolish Dublin in the 1978 All-Ireland football final.
The "Bomber" moniker has stuck with the Kingdom legend since then.
But it caused an incident when he was travelling on a plane from Cardiff to Cork last weekend.
A cabin crew member on the flight became alarmed when she heard a fellow passenger calling out "Bomber" to the seven-time All-Ireland winner.
It required an in-flight Google search to explain that "Bomber" is what he is commonly known as.
'Concerned'
"I was up at the front and one of the lads, to get my attention, called out 'Bomber'," Liston revealed to the Irish Independent.
"The air hostess must have got a bit concerned, she referred him to the pilot," he said.
"We knew there was a bit of a problem. I waited until everyone was off the plane in Cork.
"Some of the crew interviewed the fella who called me and they Googled me to confirm that I was known as 'Bomber'.
"They explained the protocols but they accepted the explanation, they just realised what had actually happened."
He was glad to say: "It came to nothing."